André Uerba + Guest : New Work 2015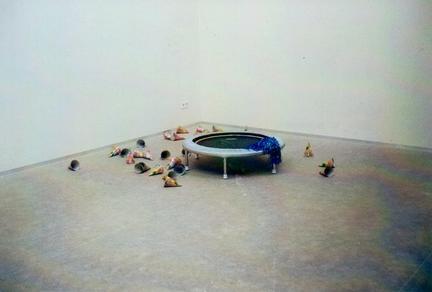 André Uerba + Guest : New Work 2015
"If I talk about time...
It's because it doesn't exist
If I talk about a place...
It's because it has disappeared
If I talk about time...
It's because it doesn't exist anymore."
- Jean-Luc Godard
---
André Uerba is a visual artist and performer based in Berlin. Coming from a mixed background of photography, theater and graphic design, Uerba uses visuals as a performative element in his work and in many instances visa verca. Working with installation, photography, dance, performance and video, Uerba develops a language that overlaps in both medium and content. His work is often caught unifying satire and critique in the same breath whilst integrating an aesthetically-trained eye. In 2013 he received the Centro Nacional de Cultura Grant from Portugal and in February 2015 he completed his Master of the Arts within HZT's Solo/Dance/Authorship program. André Uerba has and continues to collaborate with Lisbon based artists Ana Borralho & João Galante, touring world-wide with the well-received piece "Atlas" and occasionally showing the collective work "SexyMF" in different settings. His solo-work has been exhibited and performed extensively in Berlin and in Lisbon and in May 2015 he will be spending time at ausland working on his New Work of 2015 as an invited artist as part of the ausland Residenzen series.
---
André Uerba ist bildender Künstler und Performer, lebt und arbeitet in Berlin. Er stammt aus Fotografie und Grafik Design und arbeitet seit kurzem im Rahmen Theater und Tanz. Für Uerba sind Bilder und Performance zwei verschieden Medien, die er in einem Raum auf verschieden Arte darstellt und schafft, näher aneinander zusammenzubringen. Dazu kommt seine Interesse für Tanz, Videokunst, Installation und Inszenierung. Hochästhetik kommt die Arbeit manchmal vor, aber nur nach sie dann schwer von Ironie und Medienkritik geprägt wurde. In 2013 gewann er das Centro Nacional de Cultura Stipendium von Lissabon, Portugal und in Februar 2015 schloss er seine Mastersarbeit an der HZT (Hochschulübergreifendes Zentrum Tanz) ab in dem 'Solo/Dance/Authorship' Programm. André Uerba arbeitete regelmäßig mit den zwei ChoreografInnen Ana Borralho & João Galante aus Lissabon, und ist in letzter Zeit mit dem sehr gut aufgenommenes Stück "Atlas" Weltweit unterwegs, ab und zu zeigen sie auch die gemeinschaftliche Arbeit "SexyMF" in verschiedenen Räumen zusammen. Solo wurde seine Arbeit häufig in Berlin und Lissabon gezeigt und in May 2015 nimmt er an den ausland Residenzen Reihe im ausland teil und entwickelt er die Neue Arbeit weiter.
http://www.andreuerba.com/index.html