Asnan /// Foster&Yoshikawa /// Capece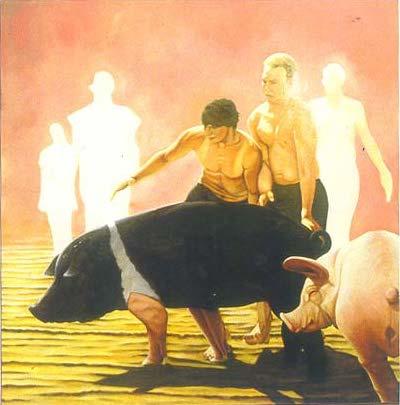 Adam Asnan solo - improvisations with objects, speakers, and electronics
Joe Foster (things and stuff) and Daichi Yoshikawa (electronics, feedback)
Lucio Capece presents Modes Study (for Sine Waves, One Balloon with Propeller, PA, Flying Speaker and UV light)
doors 20h30, start 21h
---
Adam Asnan
is an electroacoustic musician and location sound recordist, based between London and Berlin. His work promotes the aesthetic potential of recorded, amplified sound, and the auditory 'image' subject to interference.
His compositions, live performances and collaborative projects have been presented across Europe, with recordings published by Entr'acte, Senufo Editions, Foredoom, Porta, 1000füssler, Consumer Waste, Second Sleep, Holidays Records, Wasted Capital Since 2013, Reductive Music, Organised Music from Thessaloniki and Intonema. Adam is one third of VA AA LR with Vasco Alves and Louie Rice.
Joe Foster is a lifelong improviser from the US but based in Seoul since 2002. Daichi Yoshikawa is from Japan, uses electronic feedback in performances and enjoys riding his bicycle.
Lucio Capece is an Argentinian musician based in Europe since 2002, specifically in Berlin since 2004. After 12 years focused in Electro Acoustic Improvisation he dedicates in the last years, to works focused in the Perception experience, that he performs mainly in Solo and in the context of occasional collaborations. He composes his own pieces that may include improvisation and different ways of writing. He uses tools like Flying Speakers hanging from Helium Balloons, Speakers as Pendulums, Analog synthesiser, Sine Waves and Noise Generators, Drum Machine, Ultra-Violet Lights as much as the instruments that he has played for 25 years: Bass Clarinet and Soprano Saxophone. He has also written compositions for small Ensembles working the same aspects in the context of traditional Instrumentations. Beyond instrumentation and tools, the main intention is to focus in the possibilities of collective human experiences.