Betty Confetti Y Su Conjunto Tropical
Submitted by
tobias
on Mon, 2012-08-06 23:51.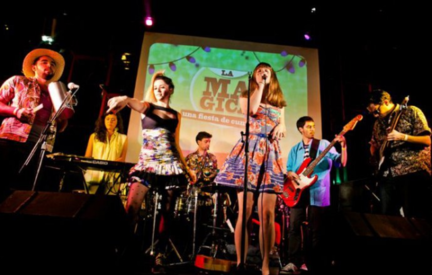 Ever since her first week walking through the Buenos Aires streets, Betty Confetti was grabbed by the chucu-chucu of cumbia. After several years living in the city, absorbing its warmth and its popular dance music, she was surprised that cumbias started pouring out of her when she played her cuatro, the Venezuelan instrument that brings her British origins closer to her new Latin American home.
Chicha Peruana and romantic cumbias like those of Gilda, inspired her to form the Conjunto in 2010. They rapidly composed songs of lost love such as Mi Nidito and Hamaca, seductive songs in a place that thrives on machism, and hits for parties, like Permiso. They played in parties and gigs, including support for Lia Crucet and Yerba Brava, and have toured the Province of Buenos Aires, playing in events for Young peoples´ rights.
In 2011 Betty Confetti y Su Conjunto Tropical recorded their debut album, Camina Sobre Fuego, in ION studios with Iván Díaz Mathé of Crang Records, which is to be released in 2012.
In late 2012 they will perform in Berlin for the first time ever, exclusively at the CC No 1 Festival at ausland.