CC N° 1 Astroturf Homegrown Thrive and Prosper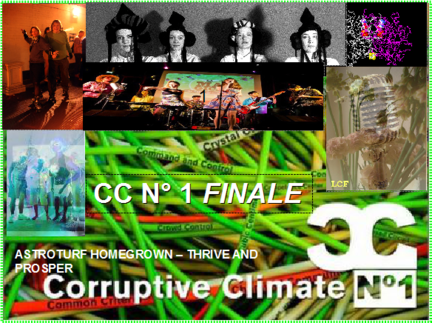 a tropical night of vegetable and musical blossoming
This time Astroturf Homegrown is hosting the grand final night of the CC N° 1 Corruptive Climate Festival: Using the remains of the Biotec Life Orchestra Installation and adding a wide range of objects, plants, pictures, projections, mobile hanging oddities and culinary surprises, floating on the boundary lines of organic, human, and technological hybrids, Astroturf Homegrown – Thrive and Prosper, invites the audience to participate in a tropical extravaganza on the very last night of the festival, experiencing great artists in this unique environment such as:
TOXO (Dr. Netze Aus Wasser/ Berlin)
Toxo will initiate the audience into the fascinating bio-chemical processes of the world of plants with his exciting performance of unseen experiments.
LA CORAL FLORAL (Berlin)
La Coral Floral will let the flowers do the performing work while presenting bewitching sounds.
VALBY VOKALGRUPPE (Copenhagen)
Valby Vokalgruppe consists of four voices and four keyboards that in the field between the organic and the synthetic explore minimalistic trance patterns, pop melodies with lyrics on top of old school hip hop beats, and chaotic cuts over strictly composed pieces – in a synthesis of something ancient and highly modern.
LATEBRÖQ (Berlin/London)
A new monster collaboration put into full force just for this night by Bröckel and Late Nights In Squat Bars, who will perform haunting new compositions, keeping the rainforest humid.
BETTY CONFETTI Y SU CONJUNTO TROPICAL (Buenos Aires)
Chicha Peruana and romantic cumbias like those of Gilda, inspired Betty Confetti to form her very own cumbia band, the Conjunto Tropical, in 2010. They rapidly composed songs of lost love such as Mi Nidito and Hamaca, seductive songs in a place that thrives on machismo, and hits for parties, like Permiso. They played at parties and gigs, including support for Lia Crucet and Yerba Brava, and have toured the Province of Buenos Aires, playing at events for youth rights.
They will perform in Europe for the first time ever at the CC N° 1 Festival at ausland.
& DJ Sabine Machine & DJ Fett – Salatschleuder vs. 7' Smasher
The two Rollerskate aces, otherwise busy as the dream team of the booking agency of hearts, and long-time friends of ausland, Planet Rock will stir the history of Pop, with Sabine Machine kissing your feet, and DJ Fett congratulating ausland as he already dropped the records in the opening programme - 10 years ago.
Sissi FM from 9pm on reboot FM
the end is the beginning is the end, from here to there – the never-ending open mic stream and interviews with artists, audience and organizers from astroturf- thrive and prosper the final CC N°1 night intimate details in BLUE
Astroturf Homegrown consists of Torsten Schlopsnies and Tobias Hassels who had been responsible for the opening night of the Dein Wort In Gottes Ohr Festival at ausland in 2008, 'The Return Of John Frum', among other Astroturf events.