Bo Lie Trio / RubyRubyRuby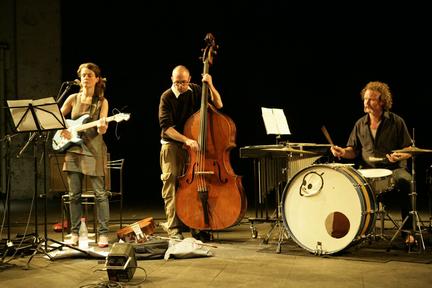 Bo Lie Trio
(Dea Szücz, Yair Lantner, Bo Lie)
spielt Beethoven, Schubert, Haydn
RUBY RUBY RUBY
(Margaret Kammerer, Derek Shirley, Steve Heather)
good old-ish friends who came together in the summer of 2006 in Berlin to play the Jazz standards and songs they love.
Margareth is a song-based vocalist and composer working in the surrounding of Berlin's experimental music scene. Her music has an affinity for minimalism and her lyrics are sourced by classical and contemporary poetry. Since 2000 she has been making solo concerts and developing a body of work for her first solo release to be an animal of real flesh on Christof Kurzmann's label Charhizma. Together with Kai Fagaschinski, Michael Thieke and Christof Kurzmann she formed the band project The Magic I.D., which is working on new song forms. She has been involved in numerous cross-disciplinary collaborations as both as composer and performer with filmmakers, video artists and in theater with director Jay Scheib, Adeline Rosenstein, Antonjia Livingstone, Bo Wiget ecc. She has worked with numerous musicians as: Paolo Angeli, Daniela Cattivelli, Jon Rose, Fred Frith, Joe Williamson, Chris Abrahams Stefano Pilia, Andrea Belfi, Ignaz Schick ecc
Derek Shirley, born ottawa canada, since 2001 based in Berlin. active in various improvised and experimental music scenes with projects such as Monno, Hotel Gaeste, Unununium, Taunus.
Steven Heather studied percussion/improvisation at the Victoria College of the Arts (1991). Perfermance Art at DasArts/Amsterdam (2006). Since 1994 Steven Heather has been performing and recording as a musician of all sorts regularly in Australia, Europe, America and Asia. He currently performs regularly with Andy Moor, Yannis Kyrialides, Joe Williamson, Toby Delius, Axel Doerner, Jan Schroder, Martin Siewert, Boris Hauf and Thomas Meadowcroft to name but a few.