Bob Ostertag + Jon Rose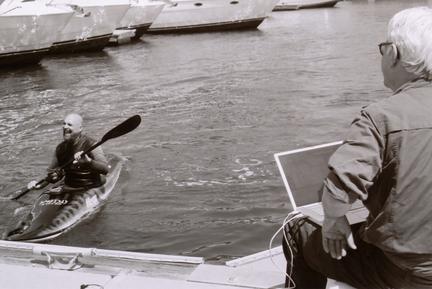 Bob Ostertag solo
Bob Ostertag & Jon Rose duo
Doors 20:30 - Start 21:00
Bob Ostertag is a composer, performer, historian, instrument builder, journalist, activist, kayak instructor. He has published 21 CDs of music, two movies, two DVDs, and three books. His writings on contemporary politics have been published on every continent and in many languages. Electronic instruments of his own design are at the cutting edge of both music and video performance technology. He has performed at music, film, and multi-media festivals around the globe. His radically diverse collaborators include the Kronos Quartet, avant garder John Zorn, heavy metal star Mike Patton, jazz great Anthony Braxton, dyke punk rocker Lynn Breedlove, drag diva Justin Bond, Quebecois film maker Pierre Hébert, and others. He is rumored to have connections to the shadowy media guerrilla group The Yes Men. In March 2006 Ostertag made all of his recordings to which he owns the rights available as free digital downloads under a Creative Commons license. He is currently Professor of Technocultural Studies and Music at the University of California at Davis.
More about Bob Ostertag and his projects at www.bobostertag.com.
The Australian violinist Jon Rose has been at the sharp end of experimental, new and improvised music on the global stage for nearly 40 years. Central to that practice has been 'The Relative Violin' project, realising almost everything on, with, and about the violin - and string music in general. Most celebrated is the worldwide Fence project. In the area of interactive electronics, his work is considered exemplary, having pioneered the use of the MIDI bow in the 'Hyperstring' project in the 1980s with the Steim Institute, Amsterdam. Jon Rose has appeared on more than 60 albums and collaborated with many of the mavericks of new music including Kronos String Quartet, John Cage, Derek Bailey, Butch Morris, John Zorn, Alvin Curran, Fred Frith, George Lewis, Otomo Yoshihide, Christian Marclay, Eugene Chadbourne etc. at festivals of New Music, Jazz, and Sound Art world wide such as Ars Electronica, Festival D'Automne, Maerzmusik, Dokumenta, North Sea Jazz Fest, Leipzig Jazz Fest, European Media, New Music America, the Vienna Festival, the Berlin Jazz Festival etc.