CANCELLED: Dans les arbres // Railroad Concrete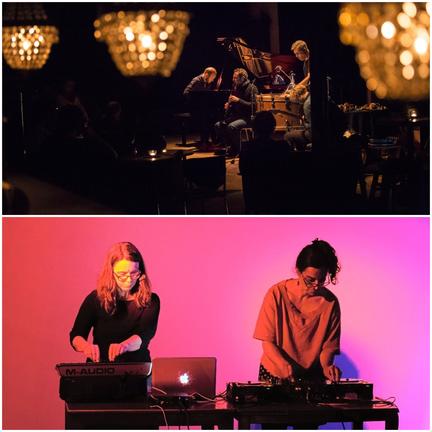 CANCELLED: biegungen visit studioboerne45
+++ English below +++
Dans les arbres
Christian Wallumrød
– Klavier

Xavier Charles
– Klarinette

Ivar Grydeland
– Gitarre

Ingar Zach
– Perkussion
Dans les arbres
ist ein improvisierendes Ensemble, das aus dem französischen Klarinettisten
Xavier Charles
und den drei Norwegern
Christian Wallumrød
(Klavier),
I
var Grydeland
(
Gitarre) und
Ingar Zach
(Schlagzeug) besteht.

"Dieses einzigartige Improvisationsquartett (...) verfeinert sein künstlerisches Konzept weiterhin mit einem seltenen Sinn für Übereinstimmung und geteilte Verantwortung." (ECM Records)

Die eigenwilligen Mitglieder der Gruppe bilden ungewöhnliche Kombinationen aus luftigen, hölzernen, metallischen Klängen, präparierten Saiten und manipulierten Trommelfellen. Ihre Klangwelt und der feine Sinn für Kommunikation führen zu kollektivem Spiel und spontaner Gruppenkomposition, die als "eine Klasse für sich" bezeichnet wird. Ihre Musik bewegt sich sanft, aber stetig auf weiten Klangflächen vorwärts. Die dynamischen Texturszenarien entwickeln sich, während
Dans les arbres
seinen Reichtum an unorthodoxen erweiterten Techniken nutzt.

Seit der Aufnahme ihres ersten Albums im Jahr 2006 haben
Dans les arbres
me
hr als 150 Konzerte rund um den Globus gegeben. Die beiden Veröffentlichungen auf ECM Records und eine auf Hubro – das selbstbetitelte Debüt
Dans les arbres
(2008), Canopée (2012) und Phosphorescence (2017) – wurden von Kritikern und Publikum gleichermaßen gelobt. Im Oktober 2019 wurde das vierte Album der Gruppe, Volatil, auf dem Label SOFA veröffentlicht.
Dans les arbres
wurde für den renommierten Nordischen Musikpreis 2015 nominiert.
Dans les arbres
sind mit Gastmusikern wie Yumiko Tanaka, Otomo Yoshihide, Jim O ́Rourke, dem norwegischen Duo Vilde & Inga und mit The Norwegian Wind Ensemble aufgetreten. Zusammen mit Sängern und der Oslo Sinfonietta führten sie 2015 im Osloer Opernhaus das Stück Über die Natur von Henrik Hellstenius auf.

"Die Freude an dieser recht magischen Scheibe kennt kein Ende. Die feinste Komposition, wie auch die Improvisation, beruht letztlich auf Intuition, und diese Spieler scheinen ein angeborenes Gespür für die richtige Kombination von Klängen und Texturen zu haben. Dans les arbres muss eine der besten ECM-Improv-Veröffentlichungen – ja, Veröffentlichungen von jedem Label – der letzten Jahre sein". (The Wire)
https://www.danslesarbres.net
Railroad Concrète
Heidrun Schramm
– Computer, MIDI-Controller, Casette-Player
JD Zazie – CD-Player, Mix

Das Duo Railroad Concrète wurde 2017 von Heidrun Schramm und JD Zazie gegründet, und basiert auf aktuellen Zuggeräuschen aus dem Archiv ihrer persönlichen field recordings. Fasziniert von diesen Klängen, die ihren Alltag begleiten, spielt das Duo mit Zuggeräuschen, inneren Resonanzen, akustischen Wahrzeichen, Signalen, sozialen Klängen und den akustischen Qualitäten des Bahnhofs. "Railroad Concrète" entwickelt das gesammelte Klangmaterial in seinen Kompositionen und Klanginstallationen, in denen die Klangquellen vom Konkreten bis zum Abstrakten in perfekter Symbiose reichen, ständig weiter.

Das Projekt wurde in Belgien und in Deutschland präsentiert und war Teil des Q-O2-Kunstresidenzprogramms 2018.

Gefördert von der Senatsverwaltung für Kultur und Europa
Medienpartner: Digital in Berlin
Tür öffnet: 19:00 Uhr
Konzertbeginn: 19:30 Uhr
+++English+++
Dans les arbres
Christian Wallumrød
– piano

Xavier Charles
– clarinet

Ivar Grydeland
– guitar
Ingar Zach
– percussion
Dans les arbres
is an improvising ensemble comprising French clarinettist
Xavier Charles
and the three Norwegians: pianist
Christian Wallumrød
, guitarist
Ivar Grydeland
, and percussionist
Ingar Zach
.

"This unique improvising quartet (...) continues to fine-tune its artistic concept with a rare sense of accord, and shared responsibilities." (ECM Records)

The group's idiosyncratic inhabitants form unusual combinations of airy, wooden, metallic sounds, prepared strings and tampered drum heads. Their world of sounds and the fine sense of communication, lead to collective playing and spontaneous group-composing named to be in a "class of its own". Their music moves gently but steadily ahead on broad planes of sound. The dynamic textural sceneries evolve as
Dans les arbres
harnesses its wealth of unorthodox extended techniques.

Since the recording of their first album in 2006,
Dans les arbres
has performed more than 150 concerts around the globe. The two releases on ECM Records and one on Hubro – the self-titled debut Dans Les Arbres (2008), Canopée (2012) and Phosphorescence (2017) have received praise from reviewers and audiences alike. In October 2019 the group's fourth album Volatil was released on the label SOFA.
Dans les arbres
was nominated for the prestigious Nordic Music Prize 2015.
Dans les arbres
have performed with guest musicians such as Yumiko Tanaka, Otomo Yoshihide, Jim O ́Rourke, the Norwegian duo Vilde & Inga and The Norwegian Wind Ensemble. Together with singers and Oslo Sinfonietta they performed the piece About Nature by Henrik Hellstenius at the Oslo Opera House in 2015.
"
There's no end to the delights of this quite magical disc. The finest composition, like improvisation, ultimately relies on intuition, and these players seem to have an innate grasp of the right combination of sounds and textures.
Dans les arbres
must be one of the finest ECM Improv releases – indeed, releases from any label – in recent years." (The Wire)
https://www.danslesarbres.net
Railroad Concrète
Heidrun Schramm
– Computer, MIDI-Controller, Casette-Player
JD Zazie
– CD-Player, Mix

Railroad Concrète
duo started by
Heidrun Schramm
and J
D Zazie
in 2017, based on actual train sounds taken from their personal field recording's archive.
Fascinated by these sounds, that accompany their daily life, the duo plays with train noises, inner resonances, sonic landmarks, signals, social sounds and train station's acoustic qualities.
Railroad Concrète
constantly develops the collected sound material in its compositions and sound installations, where the sound sources range from the concrete to the abstract, in perfect symbiosis.

The project has been presented in Belgium and in Germany and has been part Q-O2 art-residency program in 2018.
Presented by Digital in Berlin
doors: 7.00 pm
concert starts: 7.30 pm