CANCELLED! Sofia Jernberg & Katharina Hauke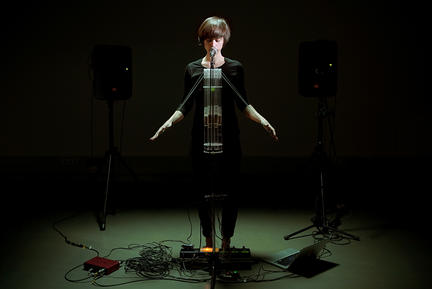 Due to private reasons on Sofia's side that are beyound anyone's will, we are sorry to announce that we have to cancel this performance.
Out/Un-spoken - The inherent poetry of the voice

Sofia Jernberg and Katharina Hauke

Sofia Jernberg is a singer and composer, born in Ethiopia in 1983. Sofia's singing vocabulary includes sounds and techniques that often contradict a natural singing style. She has dug deep into split tone singing, pitchless singing and distorted singing. As an improviser, her main focus lies in the blending of improvisation and composition.
Katharina Hauke is a Berlin based audio-visual artist.
The MikroKontrolleur is the most recent practical outcome of our ongoing artistic research on working with vocals and electronics live on stage. It is an interface which enables a vocalist to expand the possibilities of her voice through live sound manipulation.
This Outbound event explores different approaches to enhancing and manipulating the rhythmic qualities and aesthetics of the voice, and the poetry it conveys through other meanings than that of just "words".
Doors 20:00 | Start 20:30 | Donation 6 ≤ 9€