Cartouche + TOWA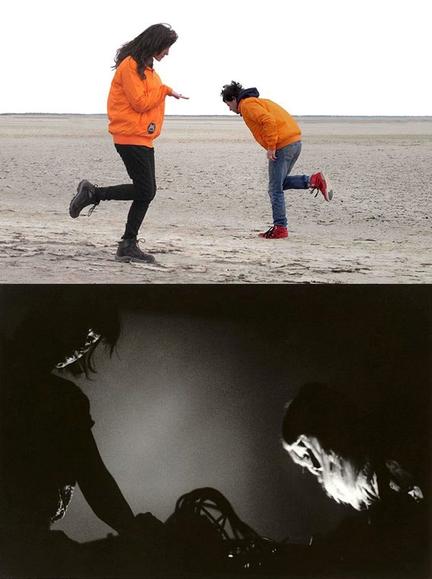 TOWA pic copyright by Tom Kindermann
Cartouche
eRIkm – electronics
Natacha Muslera – vocals, microphones
TOWA
Marta Zapparoli – electronics, prepared tapes & self made devices
Julie Rousse – laptop, electronics, microphones
Cartouche is a mixed duet featuring eRikm and Natacha Muslera, active since 2010.
Fragments that break off of a body, like a shattering windshield.
The electronics and the voice trigger eruptive sound phenomena, either rushed or stretched, in which the listener is immersed in a physical experience that is transversal to music itself.
Leaving only debris and brilliant ruins.
With malice, Cartouche is freed of all semantic background and takes delight in this.
An untamed and convulsive distanciation essay, both natural and forceful.
http://detonnant.com/?portfolio=cartouche
http://www.myspace.com/cartoucheproject
http://vimeo.com/19149098 (version 15min)
http://www.youtube.com/watch?v=eEYq-fep3Lw (version 7min)
First release: http://www.monotyperecords.com
TOWA, Marta Zapparoli & Julie Rousse, have met for the first time in 2008, on stage in the festival Sonification in Zagreb, in an improvisation ensemble configuration, but began working together in November 2012 between Berlin and Paris.
Their sonic investigations have much to share: an unconditional love for fieldrecordings,
improvisation and distortion. Their organized chaos brings out sincere emotions, oscillating between rhythms and abstraction.
While Marta Zapparoli works with DIY machines and prepared tapes, microphones and analogic self-made devices, Julie Rousse plays with a real-time modular platform on a laptop. But they both use some of the hundreds of fieldrecordings they have collected through the years and travels as a base to their creation.
With their recording, called Thunderstorms instead of Sunshines, they deliver a pure and raw Noise without compromise, lively and in perpetual movement, always playing along the world's sounds with poetic gestures in unexpected places, even in the most violent episodes of this abstract journey.
Doors: 8.30 pm
Concert start 9.00 pm