Charo Calvo + Railroad Concrète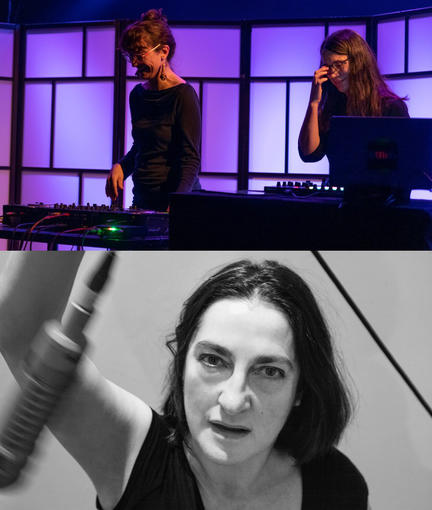 Charo Calvo – Elektroakustische Komposition + Live-Elektronik
Railroad Concrète
JD Zazie – CD-Player, Mix
Heidrun Schramm – Computer, MIDI-Controller
+++English below+++
Charo Calvo ist eine spanische Komponistin elektroakustischer Musik, Sounddesignerin und Lehrerin, die in Brüssel lebt. Nachdem sie als Tänzerin mit der einflussreichen belgischen Tanzkompanie Ultima Vez aufgetreten war, begann sie 1992 ihr Studium der elektroakustischen Komposition bei Annette Vande Gorne am Brüsseler Konservatorium (jetzt ARTS2 Mons), wo sie 1999 ihren Abschluss machte. Seit 1992 entwickelt sie ihre Arbeit als Komponistin, die in internationalen Veranstaltungsorten und auf Festivals, in Tanzaufführungen, Theater, Film und Radio weite Verbreitung findet. Charo Calvo war im Jahr 2017/2018 Gast des Residenzprogramms für internationale Künstlerinnen und Künstler in Berlin DAAD Berliner Künstlerprogramm. Sound Choreographies: Charo Calvo hat in den letzten 15 Jahren mehrere Musikstücke für zeitgenössischen Tanz komponiert, wobei sie mit der Komposition vor den Proben begann und somit bevor sie irgendeine Bewegung sah. Der Titel und ein paar Texte reichten aus, um mit dem Aufbau eines Klanguniversums zu beginnen. Es war ein intuitives System, aber nach einigen guten Erfahrungen damit, begann sie fast unabhängig von den Choreographen zu arbeiten. Sie hatte erkannt, dass es Choreografen ermöglicht, mit Klang zu reisen oder sich mit bestimmten zeitlichen Ereignissen zu verbinden, indem sie die Körperlichkeit bestimmter Klänge oder ihre Semantik nutzen. Auch die Bedeutung von Wörtern und Field Recordings oder die Energie einer musikalischen Phrase ermöglichten, die visuelle und die akustische, unsichtbare Welt koexistieren zu lassen, ohne eine Beziehung untereinander erzwingen zu wollen. Charo Calvo glaubt an die Vorstellungskraft und die Wahrnehmungsfähigkeit von uns Menschen und an die Kraft des Klangs, mentale Bilder auszulösen. Hören wir in einer Konzertsituation den tanzenden Klängen zu.
Mit ihrem 2017 gegründeten Duo Railroad Concrète bringen JD Zazie aka Valeria Merlini und Heidrun Schramm ihre Faszination für Zuggeräusche zusammen und entwickeln gemeinsam Kompositionen generiert aus Tonaufnahmen von aktuellen Zugsounds. Beide verfügen über viele Jahre gewachsene, persönliche Soundarchive, die mittlerweile die technisch bedingten klanglichen Veränderungen der Züge dokumentieren. Im musikalischen Umgang mit diesen Klängen, die das tägliche Leben begleiten, haben sie eine eigene Sprache und eigene Misch- und Kompositionstechniken entwickelt. Sie spielen mit inneren Resonanzen, Klangsignalen, sozialen Klängen und akustischen Qualitäten der Bahnhöfe, wobei die Bearbeitungen der Klangquellen vom Konkreten bis zum Abstrakten reichen. 2018 war Railroad Concrète Teil des Q-O2 Art-Residency-Programms in Brüssel. 2021 waren sie auf Tour in Österreich und Tschechien.
https://vimeo.com/539337178/07e61677b0
https://soundcloud.com/hsjdz
Gefördert von der Berliner Senatsverwaltung für Kultur und Europa
Medienpartner: Digital in Berlin
Einlass: 20:30 Uhr


Konzertbeginn: 21:00 Uhr

Tickets (nur Abendkasse): 9 €
+++ English +++
Charo Calvo – electroacoustic composition + live electronics
Railroad Concrète
JD Zazie – CD players, mix
Heidrun Schramm – computer, MIDI controller
Charo Calvo is a Spanish electro-acoustic composer, sound designer and teacher, living in Brussels. After having performed as a dancer with the influential Belgian dance company Ultima Vez, she started her studies on electro-acoustic composition in 1992 with Annette Vande Gorne at Brussels Conservatory (now ARTS2 Mons), where she graduated in 1999. From 1992 her work as composer is being developed through different media, widely diffused on international venues and festivals, dance performances, theatre, film and radio. Charo Calvo has been a guest of the residential program for international artists in Berlin DAAD Berliner Künstlerprogramm during the year 2017/2018.
Sound Choreographies: In the last 15 years, Charo Calvo has composed several pieces of music for contemporary dance starting the composition before the rehearsals, and therefore before she saw any movement. The title and a few texts were enough to start building a sound universe. It was an intuitive system, but after some good experiences of working in this way, almost independently of each other, she had realized that it allows choreographers to travel with sound, to connect to certain temporal events using the physicality of certain sounds, the semantic content of words or field recordings, the energy of a musical phrase, and for the rest, lets allow the visual world and the aural invisible one to coexist without forcing the relationship. She believes in the imagination and in the perception skills of us human, and in the power of sound to trigger mental images. In a concert situation, let's listen to the sounds dancing.
Formed in 2017, the duo Railroad Concrète consists of Heidrun Schramm and JD Zazie aka Valeria Merlini and is based on actual train sounds that the artists take from their personal archive of field recordings. Fascinated by these sounds that accompany their daily life, the duo plays with train noises, inner resonances, sonic landmarks, signals, social sounds and train station's acoustic qualities. Railroad Concrète constantly develops their collected sonic materials in its compositions and sound installations, where sound sources move between concreteness and abstraction and are in perfect symbiosis. The project has been presented in Belgium, Germany, Austria and Czech Republic. Railroad Concrète has been part of the Q-O2 art-residency program in 2018 in Brussels.
https://vimeo.com/539337178/07e61677b0
https://soundcloud.com/hsjdz
Supported by the Berliner Senatsverwaltung für Kultur und Europa

Presented by Digital in Berlin
doors: 8.30 pm
concert starts: 9.00 pm
Tickets (box office only): 9 €