Clara de Asís
Submitted by
Melodie
on Fri, 2016-03-11 23:52.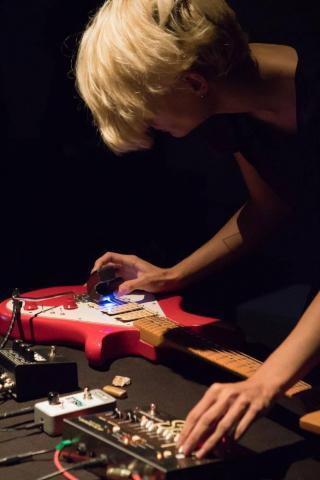 Clara de Asís is an electroacoustic music composer and experimental guitarist, born in 1988 in Spain and based in France, where she's fully involved in the experimental and contemporary music scene. Her musical practice is held away from any formal academicism, aiming to transcend conventional instrumental approaches. She works mainly on prepared electric guitar, focuses on exploring the specificities of her instrument, and develops them both in live situations and throughout electroacoustic compositional processes within sounds from several sources. She often builds her music from minimalist frameworks, which allows her to explore a certain idea or parameter to reach its full development.
Her works have been promoted on many international platforms and scenes and she collaborates regularly with sound artists and contemporary musicians (among others: Noe¨l Akchote´, Christophe Modica, Laura Vazquez, Jean-Marc Montera, D'Incise, Golem Mécanique, Emmanuel Lalande, Nicolas Dick).