Clare Cooper
Submitted by
caribu
on Tue, 2009-04-28 15:37.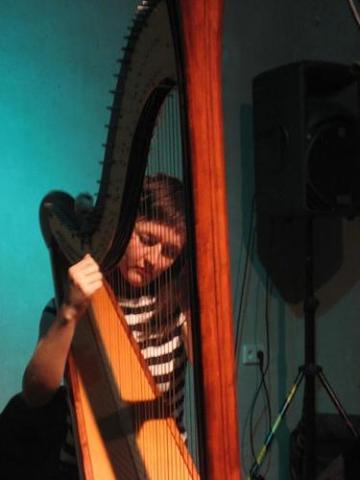 "the kind of thrill-seeker the music world usually loses to the electric guitar"
- TIME OUT, CHICAGO
Clare Cooper (born Sydney, Australia in 1981) plays pedal harp and guzheng (large chinese zither). Over the past 10 years she has performed in 16 countries both as a soloist and collaborator, notably the Musee des Beaux Arts (Nantes), AMAT Festival (Valencia), Strasbourg Contemporary Art Museum, Blaest (Trondheim), Offsite (Tokyo), Volksbuehne (Berlin). Cooper's compositions have been featured on Germany's SWR, Australia's ABC Radio and UK's BBC Radio.
She's ferocious with strings and sticks, her sound inspired by synthesisers and broken boom boxes. In 2007 she relocated to Berlin where she has been a founding member of several ensembles, most recently, the Splitter Orchestra - a 25 piece improvising ensemble. Cooper has also been a guest programmer and curator at ausland and Radialsystem V.
Aside from solo performance Clare's key projects are Germ Studies (with pianist Chris Abrahams), LVSXY (with bassist Clayton Thomas), Nevers (with electronics musician Jean-Philippe Gross) and Hammeriver (see concert Sept 17). She is also a member of the Splitter Orchestra (Berlin), The John Butcher Group (UK), Kim Myhr's Trondheim Jazz Orkestra (Norway) and the Splinter Orchestra (Sydney)
With partner Clayton Thomas, Cooper founded and directed the concert series 'If you like improvised music, we like you' and 'the NOW now festival of spontaneous music' from 2001-2007, and started Smack Bang Alive FIlm Soundtracks Festival.
She has collaborated with internationally acclaimed improvisers, pop and hip-hop groups, butoh dancers, animators and film makers. Her music has been described as 'awes inspiring in it's patience, quiet confidence and beauty' (REALTIME ARTS)
http://soundcloud.com/clarecooper
http://www.cityofwomengoesweb.org/music/Crouton_clare.mp3