Compass Festival Workshop with Mazen Kerbaj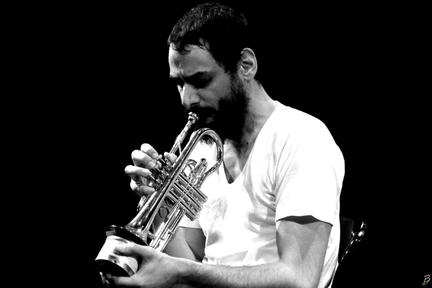 "improvisation and visual art – can the hand go faster than the brain?"
A workshop with Mazen Kerbaj
[en] Workshop for (visual) artists ...and anyone interested in visual arts and improvisation..
Beirut based musician, cartoonist and visual artist Mazen Kerbaj has a long history in improvisation, both in music and in visual arts. This practice and his experience as a university teacher led him to develop this workshop where he shares his own "method" of creating "real time drawings", a method where the drawing itself will reveal its subject to the artist during the process of creation.
In an intensive and unique session, all the participants will be pushed to defeat the fear of the blank page and to produce a series of drawings they could not have produced otherwise.
The "method" that will be shared is just a starting point from which each participant is encouraged to find and develop his own way to create spontaneous and "thoughtless" drawings.
Mazen Kerbaj is visiting within the Compass Festival Berlin
for more info on his inspiring work please visit
http://kerbaj.com/
http://mazenkerblog.blogspot.fr/
please rsvp at compassfestivalberlin@gmail.com
[de] Der in Beirut lebenden Musiker, Comic Zeichner und visuelle Künstler Mazen Kerbaj arbeitet seit langer Zeit im Bereich der Improvisation, sowohl in der Musik als auch in der visuellen Kunst.
Diese Praxis, und seine Erfahrung als Lehrender an der Universität , führten dazu, dass er einen Workshop entwickelte, indem er seine eigenen Methoden der "Echtzeit Zeichnungen" teilt.
Eine Methode, in der die Zeichnung selbst dem Künstler ihr Subjekt im Prozess des Schaffens sichtbar macht.
In einem intensiven und einzigartigen Workshop werden die Teilnehmer dazu gebracht, die Angst der "leeren Seite" zu überwinden und eine Serie von Zeichnungen zu produzieren, zu der sie sonst nicht in der Lage wären.
Diese Methode ist lediglich ein Ausgangspunkt; jeder Teilnehmer wird ermutigt, seine eigenen Wege zu entwickeln, spontane und "unbewusste" Zeichnungen zu produzieren.
Mazen Kerbaj wurde 1975 in Beirut geboren, wo er auch lebt und arbeitet. Die Schwerpunkte seines künstlerischen Schaffens liegen auf dem Comic und der Malerei, zudem ist er als Musiker äußerst produktiv und international erfolgreich. Nach der Zusammenarbeit mit verschiedenen Verlagen und Zeitschriften veröffentlichte er im Jahr 2000 sein "Journal 1999", ein Tagebuch in Comicform, zahlreiche weitere Publikationen folgten.
Anmeldungen für den Workshop bitte unter compassfestivalberlin@gmail.com