Contagious Orgasm/Sudden Infant/Pharoah Chromium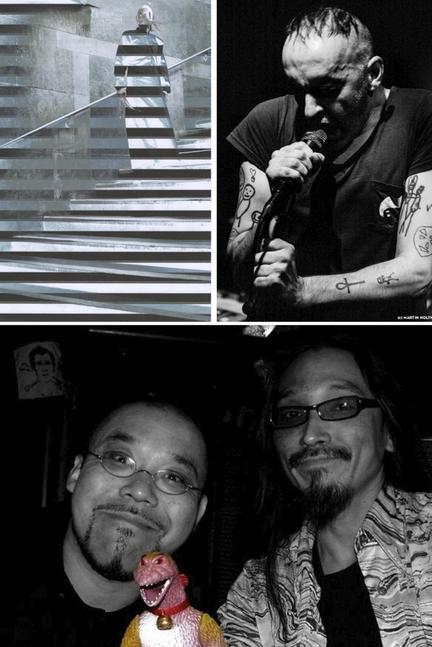 Contagious Orgasm

Hiroshi Hashimoto: sampling, electronics, video
Arai Masamitsu: percussion
Contagious Orgasm are active since 1987 in many intersecting and diverse areas of experimental electronic music, including noise, industrial, rhythmic noise and ambient.
Contagious Orgasm played many festivals in Japan and Europe (i.e. Wroclaw Industrial Festival, Maschinenfest, ElektroAnschlag) and released innumerable albums on International labels (i.e. Ant-Zen, SSSM, Ground Fault Rec).
Sudden Infant
Born 1965 in Basel, Switzerland. Currently based in Berlin, Germany
Joke Lanz is one of the most prolific and profound artists working in the border zones where performance and body art meet Improvisation and Noise.
In his Sudden Infant guise, Lanz creates a unique blend of physical sound poetry and epileptic noise bursts, using contact microphones, loops, tapes etc. The result is an extreme form of musique concrète that juxtaposes spasmodic gibbering with a battery of disorienting electronics.
Please note!
This will officially be the last Sudden Infant solo performance. Future Sudden Infant live shows will be presented in a band constellation with a drummer and bass player.
pharoah chromium
"meta-music for meta-people in a meta-world "
Pharoah Chromium is a project by german-palestinian musician and performer Ghazi Barakat and was named after a song of the band Chrome. The project draws inspiration from diverse sources: free jazz, rituals from ancient past and near future, the dream syndicate, science fiction novels and neo-brutalistic architecture.
Moving in waters close to the german sound of the psychedelic avant-garde of the 70's as well as industrial bands of the early 80's and uses ethnic instruments from the middle to the far east.
Pharoah Chromium wears a golden Mask and his live per­for­mance can be con­sid­ered a bizarre space rit­ual in which he plays an assorted choice of flutes and electronica…
He has released his first double Lp "electric cremation" and contributed to the imaginary soundtrack AZURAZIA for Grautag records, the label of french contemporary artist Nicolas Moulin.
The Vodou Rallizes lp for Labelle 69 in 2013 is made of treated haitian voodoo rhythms.
soundcloud
in the future, far away from the "permanent present" humanity has to endure, Vodou as a religion in its haitian form, has the schizophrenic sophistication in its peculiar system of belief to fulfill the subversive parameters of the necessary mindset for true emancipation.
pharoah chromium's apho-rhythmic studies of the cult will hopefully initiate proceedings, instigate, encourage and diffuse the spell.
by then, on a planet run by freaks, to survive, magic will be top priority.
door: 20:00 concert: 20:30