COVEN : CLUB APOCALIPS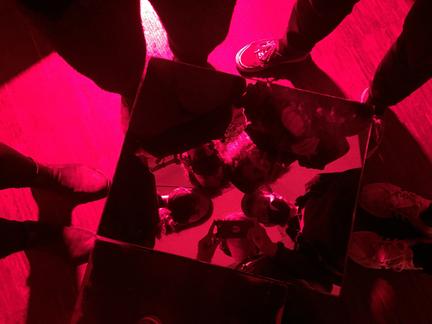 *****
COVEN BERLIN is a sex-positive transdisciplinary genderbender collective focused on feminism, love, gender, sexuality, and art. Founded in 2013 in Berlin, it blossomed in 2014 thanks to a Craigslist ad. Current members are Harley Aussoleil, Frances Breden, Judy Landkammer, Kiona Hagen Niehaus, Lorena Juan, and Louise Trueheart.
The collective nurtures collective cultural work, resource-sharing formats, experimental and hybrid curatorial approaches and embodied, affective research, always with a whiff of play. COVEN BERLIN wants to create an open sphere to deconstruct the assimilated social structures and defy gendered and racialized systemic violence and inequality. Parting from the premise the personal is political, our work is often intimate, biographical and situated. The mundane, the body, the community and the home play major roles in our approach to art. Their artistic practice is informed by the belief that compassion and empathy can also be part of the revolution.
At ausland in August, COVEN BERLIN had the chance to emotionally process, collectively rejuvenate, politically reassess and plot a new online festival called IN HEAT COLD SWEAT that will feature videoworks by COVEN BERLIN and various Berlin-based queer feminist artists. The online festival will launch by the end of December in www.cyberbog.covenberlin.com.
In October, COVEN BERLIN invited multimedia artist and writer etaïnn zwer (https://etainnzwer.tumblr.com) to collaborate on a filmed role-playing performance that would later be part of the online festival - CLUB APOCALIPS. CLUB APOCALIPS was a dystopian scenario in which the characters enter a forbidden night club. It was unclear whether they were currently experiencing a preview of the apocalypse, but what was clear is that clubs wouldn't open anytime soon. The characters in CLUB APOCALIPS danced themselves through the night in order to find themselves and one another...