Cyril Bondi
Submitted by
Melodie
on Wed, 2011-08-17 13:05.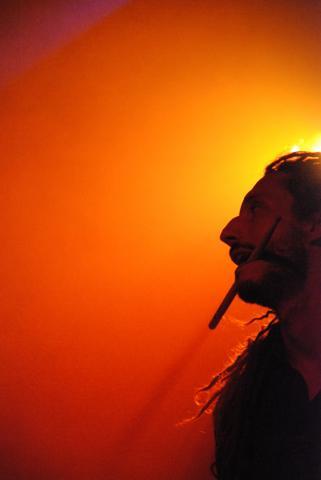 Constantly in search of new spaces to explore, he uses his instrument as a way to touch upon surrealist worlds. The pulsation, a simple tribal dance that solicits the mind, is deconstructed and reappears with a start underlining the complexity of his sound. He evolves as a tightrope walker, sweeping the void around him with his arms, giving it a human or bestial face. Cyril Bondi plays the drums and percussions since 1994. He is a founding member of the band Plaistow (post-jazz) and diatribes. He organises and leads the Insub Meta Orchestra and he's one of the coordinators of the Insubordinations Microfestival.
He plays or/and has played with Barry Guy, Keith Rowe, Otomo Yoshihide, Hans Koch, Jason Kahn, Damo Suzuki, Christian Weber, Jacques Demierre, Peter Jacquemyn, Jonas Kocher, Tatsuya Nakatani, Johann Bourquenez, Raphaël Ortis, d'incise, Guillaume Lagger, Michel Wintsch, Mike Beck, Hannah Marshall, Bertrand Gauguet, Dominic Lash, Patrick Farmer, Phil Durrant, Rafal Mazur, Dragos Tara, Jean Bordé, Abstral Compost, Tomas Korber, Eric Pailhé, Paolo Curado, Joao Pedro Viegas, Bruno Parrinha, Benoît Moreau, Laurent Bruttin, Jan Schlegel, Abdul Moimême, Antoine Läng, Cyril Moulas, Noémie Cotton, Nuno Torres, Eduardo Chagas, Patricia Bosshard, Ernesto Rodrigues, Joao Lucas, Kay Grant, Miguel Mira, Emmanuel Scarpa, Pierre-Antoine Badaroux, Christophe Berthet, Kwak, Phat, Suboko et The London Improvisers Orchestra.