The Defaults of Self Indulgence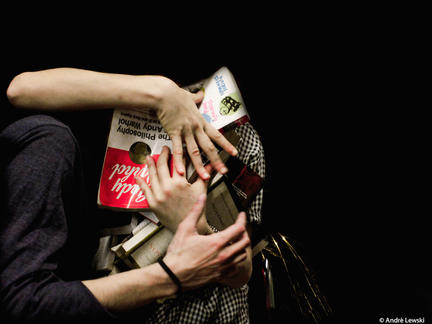 The Defaults of Self Indulgence (aka Maya Weinberg and Lee Meir) engage in The Extended Book Practice:
In their piece if it's fun (January 2014), The Defaults of Self Indulgence developed their Book Practice, in which they explore books as stimulators for action, as a 'thing' that is between an object and a container of information and stimuli. The Book Practice is an exploration in which a fluid negotiation between books and our body-mind is established. We continuously get ourselves lost in momentary narratives, threads of structures and potential logics. We call this quality of wandering around, between and through words, body and meaning, "a shared subconscious": a space that does not consider a structural relationship between body and language or between fiction and reality. With The Extended Book Practice we insist on lingering in a liminal space, a place of ongoing transformation between sense and nonsense, boredom and creation.
The defaults of self indulgence is a partnership between choreographers and performers Maya Weinberg and Lee Meir. Both originally from Israel, they currently live in Berlin and work internationally. They started their collaborative work in January 2014, seeking to test together the artificiality of the performative situation. They share the same urge to explore the flexibility of the creative mind and to investigate different strategies of transforming boredom and random objects into very successful art.