Diatribes/Mayas+Lettow/Erel/Heenan+Andrea Parkins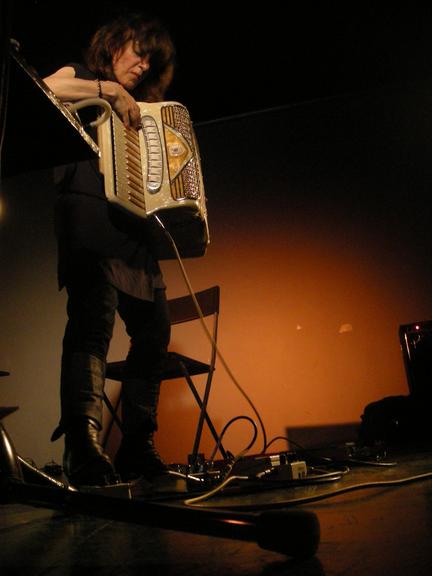 Diatribes/Magda Mayas
d'incise - laptop, objects, treatements
Cyril Bondi - drums, percussions
Magda Mayas - prepared piano, objects
"magnetic freedom, interaction, intensity and fluctuation, breaths, quiverings, cracklings, bearings, masses, crash, chaos. Sound matter builded, deformed, tears off influence of the reason, imploses and becomes again the dreams behind our eyelids". Diatribes is an hyper-active duo from Geneva, Switzerland, focusing on electroacoustic improvisation, blending percussions, objects and digital sounds, and never playing as a duo. For this event, they'll perform with pianist Magda Mayas who develops a vocabulary utilizing both the inside and the outside parts of the piano. Using preparations and objects, she explores textural, linear and fast moving sound collage. Diatribes, a strongly libertarian ensemble, began its existence in a Geneva basement in Winter 2004. Adapting the improvised and experimental music languages of today, the duo is highly reactive, dynamic, percussive and/or textured. Initialy a trio, diatribes became a polymorphous formation, accuratly incomplete, extending each time its spectrum with guest musicians, from freejazz to electroacoustic improv, from loud sound wall to intimistic acoustic details.
www.dincise.net/diatribes/bio.html
www.insubordinations.net/cyrilbondi/
magdamayas.jimdo.com
 
Andrea Parkins - electric accordion, objects, electronics
Andrea Parkins performs Faulty (broken acts), a live re-imagining of her immersive site-based work, Faulty (broken orbit). An exploration of mic'ed surfaces and amplified quotidian objects, activated into movement and then layered against a shifting, slowly settling field of electronic feedback and live-processed instruments, Faulty (broken acts) sets out to build elaborate and precarious systems in the manner of inventor Rube Goldberg's circuitous machines, which Parkins claims as inspiration for her customized sound processing as well as her sonic architecture: emphasizing idiosyncrasy and awkwardness, movement from fracture to stillness, tenuous states and the threat of things falling apart.
Gunnar Lettow - el. bass, objects
Korhan Erel - live electronics
Chris Heenan - saxofone, doublebass clarinet
The recently formed duo of Gunnar Lettow from Hamburg and Korhan Erel from Istanbul meets Chris Heenan, living in Berlin. Gunnar Lettow began his musical career as a rock musician in Kiel as member of the avantgarde rock band Nice Noise. There he started exploring the tonal possibilities of the electric bass. More and more often, he customized the electric bass and electronically processed its sound in order to create new universes of sound patterns. Korhan Erel is a computer musician, improviser, sound designer. He plays instruments he designs on a computer by employing various controllers. He also uses analog and digital electronics. He is a founding member of Islak Köpek, Turkey's pioneer free improvisation group, which is regarded as the band that started the free improvisation scene in Turkey. He composes and designs sounds for dance, theater, installations and film. He collaborates with dancers, video artists and spoken word artists. Chris Heenan is an active composer/performer and organizer of experimental music. He performs on alto saxophone, contrabass clarinet and analog synthesizer in contexts ranging from solo to large groups and in various ongoing projects. He uses these instruments to investigate new musical forms, noise, and improvisation both in his solo work and in collaboration with composers and performers such as musicians, dancers, and visual artists. Heenan has developed a formidable solo voice on his wind instruments, particularly with the contrabass clarinet where he uses extended techniques, often incorporating multiphonics with surprising results, to reveal the subtleties inherent to the instrument.
Einlass: 21:00 Uhr
Beginn: 22:00 Uhr pünktlich
Im Rahmen von ohrenstrand.net