DIE DICKEN FINGER + MEK + Motsol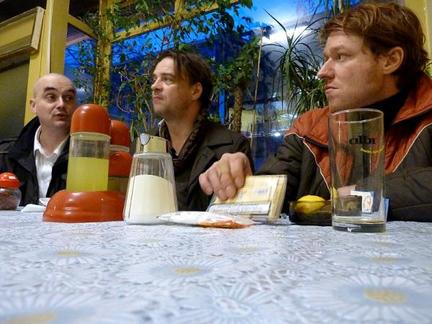 DIE DICKEN FINGER

record release
Olaf Rupp - E-Gitarre
Jan Roder - E-Baß
Oli Steidle - Schlagzeug
A trio of electric guitar, electric bass and drums that sounds as if you would put up three CDs of the Lüttenbachers, NapalmDeath and Ruins all at the same time and in fast forward mode. It is a complex offroad sound that does not even bother with preserving any kind of cold ashes. It is a free flowing stream of lava-sound that transports a thousand tiny, splintered motives and sinters them into something that is shimmering new.
All the three musicians are long since protagonists of the Berlin Echtzeitmusik scene. Jan Roder and Oli Steidle with DER ROTE BEREICH, SOKO STEIKLE and DIE ENTTÄUSCHUNG, Olaf Rupp with STOL, his Duo with Michael Wertmüller, Shoji Hano, WEIRED WEAPONS and many outstanding solo performances. The music of this trio is pushing the borders of contemporary Improvised Music far into the aesthetic of Hardcore and Offroad-Core. This is admittedly a very extreme sound but it becomes more understandable when you consider how far in music as well as in other parts of our life a compromise-borne mediocrity is in itself again a very extreme and destructive position. The music of FINGER is only confusing if you listen to it from the point of view of the average radio-standard mediocracy. In actual fact it can be a very cathartic caos.
http://www.myspace.com/DIEDICKENFINGER
http://www.youtube.com/watch?v=pL2wB2zB0R4
MEK
Burkhard Beins - zither, handheld electronics, electro-acoustic treatments
Michael Renkel - acoustic nylon-string guitar, analogue synth, electronics
Derek Shirley - bass synthesizer
live-electro-acoustic music
While guitarist Michael Renkel and percussionist Burkhard Beins, who know each other from 20 years of collaborative work as Activity Center and 10 years within the Berlin Septet Phosphor, concentrate predominantly on the electro-acoustic side of their rich instrumental scope, bass-player Derek Shirley, who works with the Noise-Rockers of Monno and the Jazzers of Hotelgäste alike, radically replaces his instrument by a bass synth.
A combination of acoustic guitar, zither and analogue synthesizers might point at 1970's experimentalism : if only the hippies would have done something like this! Sonically there might be references to the industrialism of 1980's projects like Dome, Nurse with Wound or Zoviet:France : if at all. In fact this is hand played live-electro-acoustic music for the 21st century.
Mobiles Einsatz Kommando * Mars Expeditions Komplex * Maximale Emissions Konzentration *
Mono Evolver Keyboard * Mittlerer Erzgebirgs Kreis * Matkailun Edistämis Kesku * Material Einzel Kosten *
Methyl Ethyl Ketone * Magyar Elektronikus Könyvtár * Mehr Ertrag durch Kompetenz * Modell Eisenbahn Klub *
Release:
Mars Expedition Komplex (Homophoni, homo043, Free MP3 Download 2010)
Motsol
Stine Janvin Motland - voice
Ståle Liavik Solberg - drums
http://soundcloud.com/stllvkslbrg/motsol-b
Einlass: 21:00 Uhr
Beginn: 22:00 Uhr pünktlich
Im Rahmen von ohrenstrand.net