Michael Renkel
Submitted by
el
on Sun, 2009-02-01 12:49.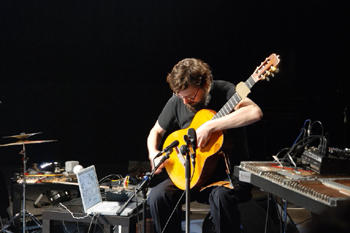 Renkel (1965 Germany) studied classical guitar in Hamburg.
The main emphasis of his work is an interest in open methods of composition.
His guitar playing straddles tradition and the development of a personal language that includes extended playing techniques and the preparation of the acoustic guitar. In a logical continuation he also extends the instrument via computer technology and he's the first classical guitarist who connected the instrument in realtime-live processing to the computer. The acoustc guitar is modified in a way that blurs the delineation between acoustic preparation and electronic variance.
In his electric guitar work the instrumental material is altered using preparations, laptops and live electronics: the further development of this setup is his self-constructed amplified stringboard.
Renkel also works with field recordings (e.g. from Indonesia) and composes works that experiment with genetic processes via generation, mutation, hybridization and coding. He investigates the rhythmical structures of language and works with computer generated complex machines.
Newer projects are sculpural sound installations.
Compositions published at Verlag Neue Musik / Berlin.