activity center/friendship gar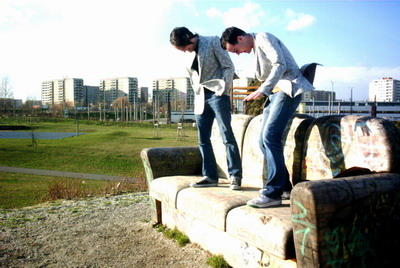 activity center (burkhard beins - percusssion & objects, michael renkel - acoustic guitar, percussion)
the friendship garden (brendan dougherty - drums, felix meinhold - keys)

activity center:
die in berlin lebenden musiker michael renkel und burkhard beins erarbeiteten sich in den vergangenen 15 jahren eine unverwechselbare geräusch- und klangsprache mit ausgeprägt performativen aspekten. im duo, als solisten, aber auch - gemeinsam oder unabhängig voneinander - in diversen ensembles spielten sie internationale tourneen und festivals
und veröffentlichten zahlreiche tonträger.
www.burkhardbeins.de
www.michaelrenkel.de

the friendship garden:
no wave aus berlin
ein kleines schlagzeugset
zwei noch kleinere keyboards
die musik ist laut, rau und hypnotisch; das schlag­zeug steht als instrument im vordergrund, die keyboards liefern uneindeutige harmonien, dichte bässe und ungewohnte klänge, die durch die verwendung früher digitaler synthesizer entstehen. die meisten lieder sind lang.
the friendship garden
sind vertreter der musik­rich­tungen garage rock, art-punk und insbesondere no wave.