Katharina Ernst/Luis Lopes + The Quiet Cue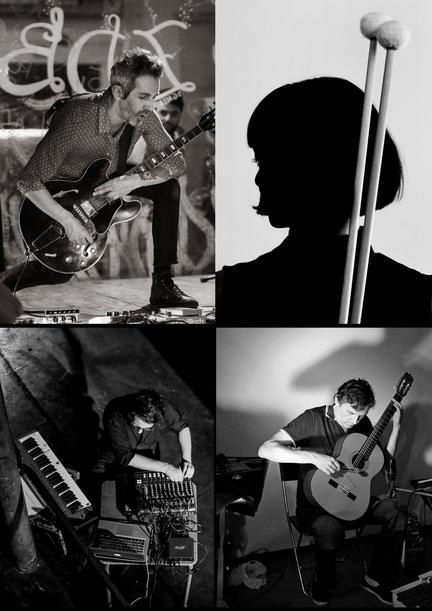 Katharina Ernst/Luis Lopes
Katharina Ernst – drums
Luis Lopes – guitar
http://katharinaernst.com/
https://www.luislopes.pt
THE QUIET CUE
Michael Renkel – semi-acoustic guitar, objects, electronics
Nicolas Wiese – sampling, feedback mixer, oscillators
https://renkel.org/
https://nicolaswiese.com/
+++ scroll down for english +++
Katharina Ernst/Luis Lopes
Man darf gespannt sein auf das Zusammentreffen dieser beiden Instrumentalisten, die einen so reichen und vielfältigen Hintergrund haben.
Die Berlinerin Katharina Ernst ist eine multidisziplinäre Künstlerin. In ihrer Biografie liest man: "In ihrer eigenen Arbeit betont sie die Überschreitung der Bereiche Musik, bildende Kunst und Choreographie und zelebriert eine hybride Auffassung des Begriffs 'Komposition'. Ihr Hauptinteresse am Schlagzeugspiel sind polyrhythmische, polymetrische, seltsame und chaotische Strukturen" – wobei sie die Reduktion als Mittel versteht, um sich der Komplexität, einem Beat oder dem/einem unendlichen Universum in einem Bruchteil einer Sekunde zu nähern.
Luis Lopes, Gitarrist aus Lissabon, kann man als einen Unangepassten beschreiben, einen der jede Linearität ablehnt, eine Art poetisches Chaos ohne Zwang oder Manierismus in Bezug auf strenge stilistische Implikationen kreiert. Seine Musik kann vom extrem experimentellen Lärm, bei dem er das Chaos einer Rückkopplung erforscht, bis zum Pianissimo von Liebesliedern variieren, bei denen er versucht, die Vorstellung von Zeit und Stimmung, Komposition und harmonischer Konstruktion auszureizen – immer auf einem Konzept des Experiments basierend.
Zwei Kreative mit unendlich vielen Möglichkeiten, die bereit sind, sich in den Rausch des Abgrunds, des Mysteriums zu begeben, denn die Schönheit und ihre flüchtige Verführung ist nicht das endgültige Ziel der Beiden. Sie wollen eine Art transzendenten Zustand erreichen. Sie wollen etwas Jenseitiges, das sie auf Ideen bringt, sie herausfordert, das sie in Richtung des angestrebten "Ortes" bringt entdecken, .
THE QUIET CUE
Michael Renkel und Nicolas Wiese haben in ihrem Berliner Gemeinschaftsstudio Ende 2009 die Konzert- und Intermedia-Reihe QUIET CUE ins Leben gerufen, und in einem Zeitraum von knapp sieben Jahren über 170 Veranstaltungen realisert. Als Nachwirkung dieser intensiven Zusammenarbeit entwickelte sich eine andere Form der Kollaboration: das elektroakustische Live-Duo THE QUIET CUE.
Renkels über viele Jahre erforschte Gitarren- und Live-Elektronik-Methoden, bei denen sich der originäre Gitarrenklang nie vollständig auflöst, kombiniert mit diversen Objekten, Percussion und "Mikrofon-als-Instrument"-Techniken, treffen auf Wieses agile Feedback-Modulationen am Mischpult, die von geschichteten Sampling-Strukturen getriggert werden. Zugleich arbeiten beide mit den dynamischen Wechselwirkungen von sich ähnelndem Material: Perkussiven Figuren, Stimmfragmenten und zufällig gefundenen Sounds. Es geht in ihren Kompositionen vor allem um Aktion/Reaktion/Interaktion.
Mehr als in vielen ihrer anderen Projekte richten die zwei Composer-Performer hier ihre Aufmerksamkeit auf Harmonik, gezielt eingesetzte und gebrochene rhythmische Strukturen, auf eine sensible, manchmal noisige-vertrackte und zugleich unterhaltsame Erkundung dessen, was "genrefreie populäre Geräuschmusik" im 21. Jahrhundert sein könnte.
Gefördert von der Senatsverwaltung für Kultur und Europa
Medienpartner: Digital in Berlin
Einlass: 20:30 Uhr
Konzertbeginn: 21:00 Uhr
Tickets (nur Abendkasse): 10€
+++ english +++
Katharina Ernst/Luis Lopes
Tremendous curiosity around this duo meeting between these two instrumentalists with such rich and diversified backgrounds.
Nowadays based in Berlin, Katharina Ernst is a multidisciplinary artist. As expressed in her biography: "In her own work, she emphasizes the transgression of the fields of music, visual arts and choreography, celebrating a hybrid notion of the term 'composition. Her main interests in drumming are polyrhythmic, polymetric, strange and chaotic structures" – understanding reduction as a means of approaching complexity, a beat or the/a infinite Universe in a fragment of a second.
Luis Lopes, guitarist from Lisbon, is a non-follower, averse to any linearity, a kind of poetic chaos without any constraint or mannerism regarding strict stylistic implications. His music can vary from the most extreme experimental noise, where he explores the chaotic directions of a feedback, to the pianissimo of his love songs where he tries to challenge the notion of time and tuning, composition and harmonic construction always based on a concept of experimentation.
Two creative beings possessing an infinity of possibilities prepared to travel in the vertigo of the abyss and mystery, because the beauty and its ephemeral seduction is not the final objective, it is in transcendence, beyond, that these musicians discover, evoke ideas, challenge, towards the pursued "place".
The Quiet Cue
Michael Renkel and Nicolas Wiese launched the concert and intermedia series QUIET CUE in their shared Berlin studio in late 2009, and have since conceived more than 170 events, before discontinuing the series in 2016.
As a repercussion of that intense collaboration, a different form of working together emerged: the electroacoustic live duo THE QUIET CUE.
Renkel's guitar / live electronics methods, elaborated over many years and combined with multiple objects, percussion and "microphone-as-instrument" techniques, are interfering with Wiese's mixer feedback modulation, vividly triggered by layered sampling structures. At the same time, they are both working with dynamic interplay between similar types of source material: percussive sounds and patterns, voice fragments, or found sound. Thus, their compositions are aiming at action/reaction/interaction.
Compared to many of their other projects, here the two composer-performers are focusing a lot more on harmonics, occasional rhythm structures and a sensitive, sometimes noisy, nerdy-complex yet entertaining exploration of what "pop noise beyond genres" might possibly sound like in the 21st century.
Supported by Senatsverwaltung für Kultur und Europa
Presented by Digital in Berlin
Doors: 8.30 pm
Concert: 9.00 pm
Tickets (at the door only): 10€