Katharina Ernst
Submitted by
Mathias
on Sat, 2016-03-12 16:20.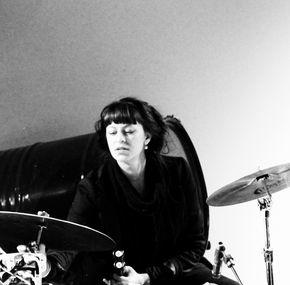 Katharina Ernst
Renowned institutions, such as Deutsches Theater Berlin or Konzerthaus Vienna, off-spaces such as parking lots in the southwest of France, hidden venues like a one-man office hosting experimental music in the heart of Seoul, or an old factory full of people shaking to her beats somewhere along the Danube; these are the frames of Katharina's artistic practice, which is as diverse as the projects she is involved in. The range spreads from improvised music with partners like Ken Vandermark, dieb13, Terrie Hessels and Kazuhisa Uchihashi to multidisciplinary street theatre with La Compagnie Luc Amoros; from live shows with her techno band VENTIL or with Chicks On Speed to contemporary dance and performance with artists and collectives like Oleg Soulimenko or Toxic Dreams. Through all of these diverse practices, Katharina defends an artistic approach that is one of a nomad, in and between disciplines. It is this perspective on art, as well as her partaking in various collaborations with highly interesting partners that have allowed her to travel across the planet - from The Netherlands to Mexico, from France to China, from Ireland to Australia.
Born in 1987 in Vienna, Austria, Katharina is a Fine Arts/Painting graduate. She started playing the drums at age nine. Her major interests in drumming are poly-rhythmical, poly-metrical, odd and chaotic structures, understanding reduction as a means of approaching complexity. Besides touring in summer and painting in winter she is curating experimental art and music events in Vienna.
Her first choreographic work ausdehnen : zusammenziehen (a : z), a series of performance pieces on the political dimension of drums, movement and space, began in 2012, has been shown at Tanzquartier Wien, Arsenale, Venice and Théâtre de la Ville, Paris, amongst other places, and has won several international art competitions and prizes (see right).
Katharina has already performed and / or exhibited in: Austria, Australia, Belgium, Canary Islands, The Czech Republic, China, Columbia, France, Germany, Great Britain, Ireland, Italy, Japan, Lithuania, Mexico, The Netherlands, Poland, Slovakia, South Korea, Spain, Switzerland, Turkey