bend/break 2010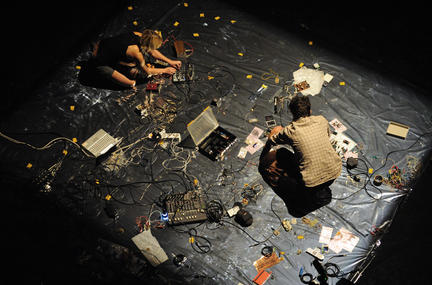 biegungen im ausland presents:
bend/break 2010
Program on Friday, 26.11.10
Door opens at 20.30, Concerts will start punctually!
Late Entrance only during the Break. Entrance 5.- Euro


21:00
1: Axel Dörner (electronic trumpet solo)
2: PXPRD: Martin Kuentz & Penelopex
live electronics, field recordings, custom filters, custom radio & wireless receivers, modulators, mixers and found objects.
Bundling together a wide range of phenomena from light, electricity, the aether and the sonic space containing ausland Marta Zapparoli aka Penelopex and Martin Kuentz will explore an mushrooming live performance
22:15
3: rebecca:
Kai Fagaschinski (clarinet) & Michael Renkel (acoustic guitar & preparations)
rebecca has been existing from 2001 to 2005. This is their return after a five years hiatus.
The work began with improvisations. Over the cause of time the same piece was repeatedly "improvised" again, reducing the concept of improvisation to absurdity. Through repeated playing a musical piece, a composition comes into being. The piece is not notated. rebecca remembers, and forgets. It is not so much a matter of interpreting a preconceived idea but rather of continuously working on and within the piece. Repetition as memory facing forward.
CD: rebecca [two variations], charhizma 2003
4: Die Schrauber:
Mario de Vega (SPK®, turntables, glitch sampling) & Hans Tammen (Endangered Guitar, live sound processing) & Joker Nies (omnichord, circuit bent instruments)
23:50
5: Simon James Phillips (grand piano solo)
This is the first occasion to hear ausland's new instrument: her majesty, baby grand!
*bend (verb)
to modify or relax (restrictions, regulations, etc.) temporarily or in certain circumstances:
to bend the rules.
to turn or incline in a particular direction; be directed:
The road bent toward the south.
*break (verb)
to destroy or interrupt the regularity, uniformity, continuity, or arrangement of; interrupt:
The bleating of a foghorn broke the silence. The troops broke formation.
to begin uttering a sound or series of sounds:
She broke into song.
"biegungen im ausland" sind ein Projekt des ausland Berlin im Rahmen von ohrenstrand.guide/Ankunft: Neue Musik. ohrenstrand.net. wird gefördert durch das Netzwerk Neue Musik, ein Förderprojekt der Kulturstiftung des Bundes, und die Kulturverwaltung des Landes Berlin.