Axel Dörner
Submitted by
caribu
on Fri, 2010-01-08 12:48.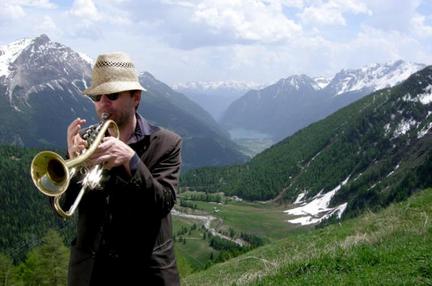 [de]

Axel Dörner – Trompete, Elektronik, Komposition




Geboren 1964 in Köln. Studierte von 1988 -1989 Klavier in Arnheim (Holland), danach von 1989 - 1994 Klavier und Trompete (bei Malte Burba) an der Musikhochschule Köln. Wohnt in Berlin seit 1994. Zusammenarbeit mit zahlreichen international bedeutenden Musikern in den Bereichen "improvisierte Musik", "Neue Musik","Jazz"und "Elektronische Musik". Entwickelte einen außergewöhnlichen Stil des Trompetenspiels basierend auf teilweise unüblichen, oft auch selbst neu erfundenen Spieltechniken.




Konzerttourneen in Europa, Nord- und Südamerika, Asien, Afrika und Australien.




Zahlreiche CD und Schallplatten-Veröffentlichungen.
[en] Axel Dörner – trumpet, electronics, composition
trumpet, electronics, composition; Born in Cologne,1964. Studied piano and trumpet (with Malte Burba) at the Musikhochschule, Cologne. Lives in Berlin since 1994. He has worked together with numerous internationally respected figures in the fields of "Improvised Music", "Composed Contemporary Music", "Jazz" and "Electronic Music". He has developed a unique style of trumpet playing based in part on unusual, often self-invented techniques. He has toured in Europe, America, Australia, Asia and Africa and appeared on numerous CD and record releases.