experimental electronics: 3 duos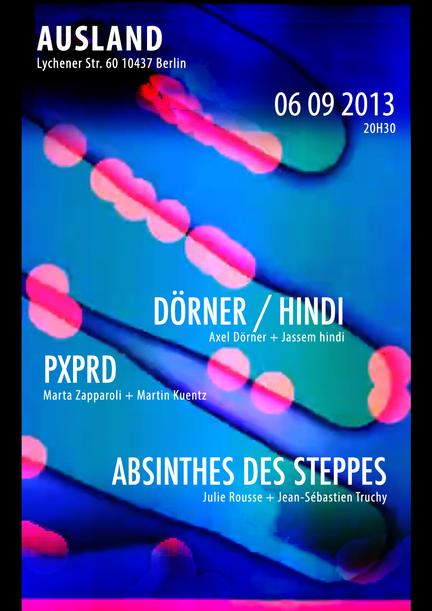 Absinthe des Steppes (Jean-Sébastien Truchy / Julie Rousse)
From emptiness to multitude, from maximal to minimal they explore Chaos.
After many years, these two musicians, both active members of the experimental scene, decided to unite in a duo for a european tour.
Julie Rousse, electronics, real time sound treatment
She uses her phonography collection as her raw material, an infinite source of rhythms and details, that she shapes with a real time sound treatment software - real time being the essential element of her spontaneous and chaotic approach.
Jean-Sébastien Truchy, analog Synth, electronics, treated vocals. His interest lies in the concepts of alterity and emptiness. In his explorations he creates pieces of music that are defined by the use of electronic instruments and treated vocals resulting in textured and organized chaos.

PXPRD
Marta Zapparoli and Martin Kuentz, self-built circuits, low emv field, natural radio, wireless communication signals
PXPRD is the chemical combination between Marta Zapparoli & Martin Kuentz
The project is based on the use of self-built circuits combined with low emv field, natural radio, radio, wideband and wireless communication signals of all kinds which can be picked up with different kinds of devices like ultrasound, vlf natural radio or wideband receivers.
With all of this material the auspicious new duo is creating a boundaryless sonic palette from electroacoustic improvisation towards dense noise.
Axel Dörner / Jassem Hindi
Axel Dörner and Jassem Hindi have been playing together as a duet since 2008. Last year, they released "Waterkil" on Corvo Records.
Trumpets / Electronics / Contact microphones / Magnetic Tapes / Sine Wave / Lo-Fi Field Recordings
"Dörner and Hindi often treat the boundary between sound and silence as some sort of treacherous tightrope. Waterkil is sometimes no more than a wispy exhalation of air hissing lightly into one corner of the soundscape. The duo explore their full velocity spectrum, in which molecules of interference ricocheting off of silence gather themselves into stormy balls of harsh noise and distortion." Jack Chuter - ATTN Magazine
"Diese phantastischen 'Mikroben' entsprechen der phantastischen Selbstverleugnung oder Verwandlung der Trompete und der Kontaktaufnahme von Hindi mit dem Beinahenichts. Ein strahlendes Haltetönchen oder das Stolpern über ein Sandkorn sind da schon Ereignisse." R.Dittmann