ArihaBrassQuartet: Dörner/Hautzinger/Hübsch/Kerbaj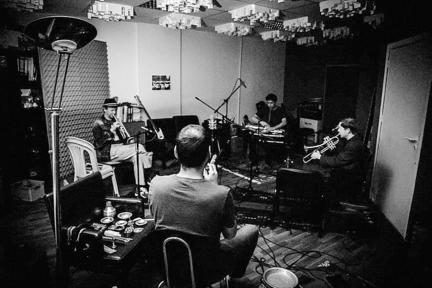 Ariha Brass Quartet
Axel Dörner – trumpet
Franz Hautzinger – trumpet
Carl Ludwig Hübsch – tuba
Mazen Kerbaj – trumpet
English below
Das Ariha Brass Quartet vereint drei Protagonisten der trompeterischen Improvisations-Avantgarde mit einem ebensolchen Tubisten.
Nachdem sich Franz Hautzinger und Mazen Kerbaj 2003 zufällig im Libanon kennenlernten, spielten sie seither im Duo und in verschiedenen Gruppen zusammen. 2008 wurde Kerbaj gebeten, eine Gruppe für die Offene Ohren-Konzertreihe in München vorzuschlagen. Er hatte die Idee, einen anderen Trompeter in das Duo zu integrieren. Die Wahl fiel unmittelbar auf Axel Dörner, nicht nur, weil er heute einer der besten Trompeter der Welt ist, sondern auch, weil er ein einzigartiger Improvisator ist und bereits ausgiebig mit Kerbaj und Hautzinger zusammen gespielt hatte. 2013 wurde der Tuba-Spieler Carl Ludwig Hübsch zu einer einwöchigen Residency nach Beirut im Libanon eingeladen. Nach einer Aufnahmesession (CD bei Al Maslakh im September 2015 erschienen) und einem Konzert erwies sich Hübsch als eine natürliche und wesentliche Ergänzung dieser Gruppe. Das Ariha Brass Quartet war geboren.
"Es schiebt, blubbert, drückt, prasselt, knackt, bricht, invertiert, extrahiert, kulminiert, marschiert und kommuniziert zu ekletisch, brutal und präzise, dass es dem Offenen Ohr (Bedingung!!) eine helle Freude ist. Alles Profis, alles Impro, alles live, alles echt!" (Dr.Wu in Freistil)
Ariha Brass Quartet @ festival Akouphène 2015, Cave 12, Geneva
https://discrepant.bandcamp.com/album/ariha-brass-quartet
English
The Ariha Brass Quartet unites three protagonists of the trumpeter improvisation avant-garde with one of the same tubists.
After meeting by chance in Lebanon in 2003, Franz Hautzinger and Mazen Kerbaj played together in duo and in various groups ever since. In 2008 Kerbaj was asked to put a group for the Offene Ohren concert series in Munich, he had the idea to ask another trumpet player to join the duo with Hautzinger. Axel Dörner was directly chosen, not only because he is one of the top trumpet players in the world today, but also because he is a unique improviser and he already played extensively with both, Kerbaj and Hautzinger. In 2013, tuba player Carl Ludwig Hübsch was invited to join the group for a one week residency in Beirut, Lebanon. After a recording session (CD released by Al Maslakh in September 2015) and a concert, Hübsch proved to be a natural and essential addition to this group. The Ariha Brass Quartet was born.
Ariha Brass Quartet @ festival Akouphène 2015, Cave 12, Geneva
https://discrepant.bandcamp.com/album/ariha-brass-quartet
https://www.facebook.com/events/535471277180103/
Supported by Senatsverwaltung für Kultur und Europa
Presented by Digital in Berlin
Doors: 8.30 pm
Concert start: 9.00 pm