Franz Hautzinger
Submitted by Anonymous on Thu, 2009-04-30 08:19.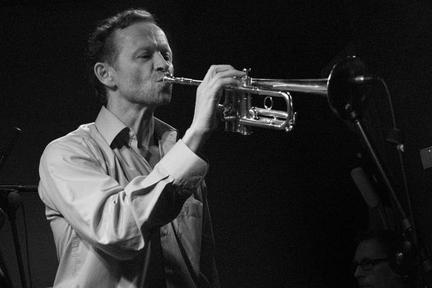 Franz Hautzinger – trumpet, quartertone trumpet
Franz Hautzinger is one of the most prolific experimental musicians of the Austrian scene who has worked with many big names of the international avant-garde, has run many own ensembles (legendary his Regenorchester, Gomberg, Dachte Musik, Poet Congress) and is much sought-after partners like Keiji Haino, Hamid Drake, Jamaladeen Tacuma, Elliot Sharp, Otomo Yosihide, Butch Morris, Lou Reed, Zeitkratzer, Derek Bailey, Luc Ex, Xavier Charles, Isabelle Duthoit, Phill Niblock, Thomas Lehn, Ensemble Zeitkratzer,John Cale, Klangforum Wien and many more ..
Hautzinger has developed his quarter-tone trumpet to a whole new kind of expression, which he elicits bizarre sounds and noises. In his solo performance, he creates adventurous soundscapes that sound more like electronic music then a trumpet.
He was teaching, composition, structure analysis, improvisation, from 1989-2008 at the University for music and arts in Vienna.
Permanently composing for movie, radio play, dance projects and theatre.
Concert tours trough Europe, USA, Canada, Mongolia, Southafrica.
Actual projects:
Filipus (Mathias Loibner, Peter Rosemarit
Uruk (Hamid Drake, Michael Zerang, Isabelle Duthoit)
Big Rain (Keiji Haino, Jamaladeen Tacuma, Hamid Drake)
Musette (Duo Isabelle Duthoit)
Solo (Gomberg)
Where is the sun (dieb13, Martin Tétreault , Isabelle Duthoit)