Discoteca Flaming Star presents: Ingrid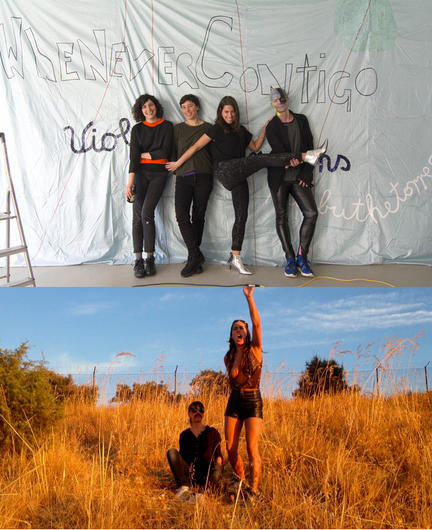 Discoteca Flaming Star (CGB, WM, Sofia Lomba, Sara Pereira) presents:
Ingrid
An evening of Film-Performances with Live Music, a banner, smells, beats and a bar in two parts.
doors: 8 pm, start: 8:30 pm
Part 1
Screening of Ingrid (2003 – so far) _ 54 minutes Film
A silent movie with live music and a voice by DFS.
Live Music / Performance with Sara Pereira (electronics), Cristina Gómez Barrio (e-bass), Wolfgang Mayer (vocals)

Ingrid, one of the figures populating the space that DFS creates. In part she relates to the deceased B-movie actress Ingrid Rabel (Maria Teresa Gómez Gutierrez, 1945 – 2002), in part to the figures and fictions Ingrid Rabel performed, in part to the fictitious extensions we keep adding to all of that. For DFS, Ingrid is an exemplary character, an exemplary figure, an exemplary life. Born after the defeat in the Spanish Civil War, under the dictatorship of Franco, having some loose relationship to Germany, assuming a German stage name, dying of cancer at the beginning of the 21st century. Addicted to slot-machines, an alcoholic, unsuccessful. Like all of us. The artist Céline Condorelli gives Ingrid her voice, the artist Sofia Lomba makes her come alive for the camera. Ingrid is herself a density, layered, as if in a Max Beckmann painting -- of tragedy, comedy and pathos, multifaceted, lumping incongruities together. Inconsistent. And through her DFS sets to build spaces, for different bodies and narrations to live and exist together, to partake in a dialogue among and alongside each other, to understand this world and imagine another one fully outside of it. Some are dead, some absent, some fictitious and some living ones in love, connected by a silken string, inside an unknown body, inviting poetic desire, warm and soft, always dissolving, never locked, insisting to dust-bathe. Small miracles, performed one by one. De-formance, connecting fragments, never durable, glamorously insisting. Every story is worth being told and retold, crucial, necessary, beautiful, inspiring, magic, diamantic
http://www.discotecaflamingstar.com/arbeit/ingrid-2/
Part 2
Screening of Ingrid - Landscape Leeway _ 20 – 30 minutes
Live Music Performance with Sara Pereira (electronics), Cristina Gómez Barrio (e-bass), Sofia Lomba (drums), Wolfgang Mayer (vocals)
As part of their performance, Discoteca Flaming Star will present a new fragment of their horror comedy cycle "Ingrid" (2003 – present) called "Landscape Leeway". Its protagonist Ingrid finds herself the devastated post-mining landscape of Lausitz, Germany, a landscape inhabited by ghosts from sunken villages and buried deserts. Their approach to memory, politically shaped landscape and monstrosity, marked by personal narrative and contingency, will be superimposed with the poetry of nigerian poet Donna Ogunnaike. By means of poetry, film and music, they explore the complex relationship between nature, landscape and transformation, collective transmission of cultural heritage, memory and history/ies and geopolitical utopias.
http://www.discotecaflamingstar.com/arbeit/never-memorize-poems-in-lands...