Eck an Car concert / Ausland Juke Joint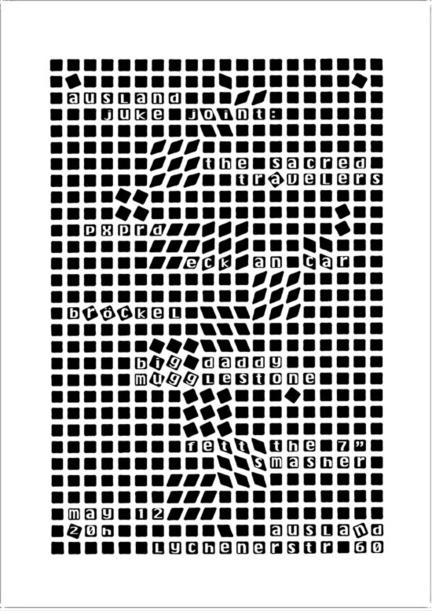 "Eck an Car is a chain of events that circumvents the process of change." Puppetmaster (Brian Kiel), Trained Chimp (Big Daddy Mugglestone), and Ex-Cop (Ian Douglas-Moore) each play part in shaping the audio and visual events that cycle through their stations. Using midi programming and interfaces mixed with analog filters and delays, Eck an Car create a clusterflux of sensorial overload where no one is sure who is doing what.
After the residency performance, relax to the soothing sounds of the AUSLAND JUKE JOINT, featuring:
The Sacred Travelers (DE/US/IT/AU)::> Molam music from Thailand meets Afro-Krautrock
T. H. Bröckel- clarinet
Rosanna Lovell- clarinet
Davide Lorenzon- alto sax
Michelangelo Contini- trumpet
Ian Douglas-Moore- guitar
Brian Kiel- bass guitar
Big Daddy Mugglestone- drums
Alan Thomason- dub master
PXPRD (IT/DE)::> Captured Audio/Electro-Acoustic Soundscapes
Marta Zapparoli- field recordings, live electronics
Martin Kuentz- wireless radio, optical ad-hoc networks
Bröckel (DE)::> Absurdist Performance Troupe
T. H. Bröckel- vox, surprise!?!
M. M. Bröckel- vox, surprise!?!
R. H. Bröckel- vox, surprise!?!
Big Daddy Mugglestone (US)::> Raw Capella Sexual Alchemy
BDM- vox
Fett the 7" Smasher (DE)::> hits the decks
FETT is a notorious hifi-killer, ladies' man and lila launebär hailing from the stinkin' city of berlin.
http://www.facebook.com/djfett1
doors at 8; concert PROMPTLY at 9 pm
5 euro