Fabric Trio
Submitted by
Mathias
on Mon, 2014-02-03 13:50.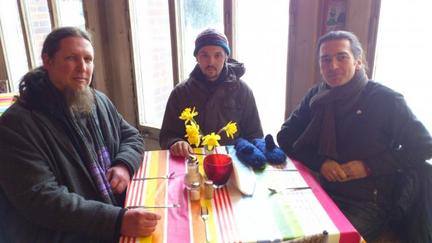 While it would be an exaggeration to suggest that there was a house style for the adventurous Lithuanian No Business imprint, the European saxophone trio nonetheless forms a significant strand in its output. Recent winning entries in the format have included sets from the Anglo Polish
Riverloam Trio
,
Thomas Borgmann's excellent US-German unit
, and
Evan Parker's longstanding trio
. To these illustrious sessions must now be added the Fabric Trio featuring German reedman Frank Paul Schubert alongside Greek drummer Yorgos Dimitriadis and Australian bassist Mike Majkowski.
Schubert has appeared in the company of luminaries such as Alexander von Schlippenbach,Gunter Baby Sommer, Willi Kellers, John Edwards and Mark Sanders and, as may be deduced from that roll call, plies his wares at the more unfettered extreme of the free jazz spectrum. Here the reedman carries most of the narrative thrust, though within the confines of a focused group ethos engendered by Dimitriadis and Majkowski's continuously shifting commentary cum counterpoint. The rhythm team prove adept at non-linear momentum, all about imparting energy in a loose-limbed rumble, leaving each other space and prompting Schubert who deals in a syntax of split tones, airy susurrations and warbled overtones.
In a collectively birthed program of six pieces spread over the 51-minute limited edition LP, the emphasis is on the atmospheric slow burn. Restraint is one of the hallmarks of this trio, best experienced on the intriguing "Acorn/Tongue." Creaks, groans and rattles gradually cohere into forward motion, building a head of steam which never quite blows its top. Such sensitive interplay holds sway throughout, equally well evidenced on "The Salt Of Pleasure" where the saxophonist's breathy soprano intertwines with Majkowski's singing arco, accompanied by nervy unsettling percussion. As so often happens, the exception comes in the scene setting opener—"Jaw"—where a conversational exchange with Schubert's soprano pontificating over throbbing bass and rolling drums, crescendos in a fever pitch of foghorn bellows and emphatic percussion. It shows that whatever the weather, there is a lot more to come from the Fabric Trio yet.
Track Listing: Jaw; The Salt Of Pleasure; Hook; Bristles; Decomposer; Acorn/Tongue.
Personnel: Frank Paul Schubert: soprano, alto saxophones; Mike Majkowski: bass; Yorgos Dimitriadis: drums.