RED Trio + Fabric Trio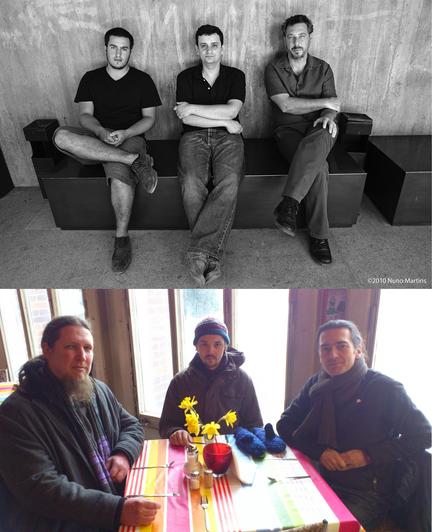 RED Trio
Rodrigo Pinheiro – piano
Hernani Faustino – double bass
Gabriel Ferrandini – drums
Fabric Trio – LP release concert: Murmurs
Frank Paul Schubert – soprano and alto saxophones
Mike Majkowski – double bass
Yorgos Dimitriadis – drums
"A cut above much of what passes for the norm." (John Sharpe, All About Jazz )
Though based on a somewhat peripheral country, RED trio, just like the renowned Clean Feed label, prove that we're fortunate to live in an era where geographical barriers no longer mean isolation.
Formed in 2007 by three musicians from the portuguese jazz and free improvised scene, RED trio is Rodrigo Pinheiro on the piano, Hernâni Faustino on the double bass and Gabriel Ferrandini on the drums. Based upon an idea by Hernâni Faustino, RED trio is a group that presents a multiple approach to music and its creation through improvisation.
RED trio explores one of the most prolific Jazz formations: piano + double-bass + drums. Instead of having the piano on a privileged position supported by a rhythm section, RED trio tries to explore a symbiotic and interactive improvisation between the three players, all of them having an equal voice. The trio's sound is then characterized by its timbre and rhythm coherence, functioning as a whole.
With several concerts in Portugal (Gulbenkian, Serralves, Culturgest, Hot-Club and others) and abroad (New York, Chicago, Utrecht, Ulrichsberg, Poznan, Krakow, Hannover, Vigo) in important Jazz and free improvisation music festivals, RED trio's regularity and quality was rewarded in 2010 with the edition of recording sessions made in 2008 on the Clean Feed record labe, with very positive echoes at the specialized press and awards on Público, All About Jazz NY, Jazz.pt and others.
From the collaboration with the British saxophonist John Butcher a new record "Empire" was released on the Lithuanian NoBusiness Records in 2011. This album was reviewed worldwide on many publications as one of the best in that year. On this year the trio toured Europe with concerts in Austria, Poland, Germany and Spain playing also in important Jazz Festivals (Ulrichsberg and Saalfelden).
In 2012, a new record, "Stem" is released on Clean Feed with the trumpet player Nate Wooley as guest. This collaboration started in 2010 when the trio played with Wooley in New York.
After two records with external collaborators, the trio looked again to itself and released in 2013 a new record in trio on Nobusiness Records, "Rebento".
Fabric Trio release their new album "Murmurs" (NoBusiness Records), which was already recorded at ausland: "In a collectively birthed program of six pieces spread over the 51-minute limited edition LP, the emphasis is on the atmospheric slow burn. Restraint is one of the hallmarks of this trio, best experienced on the intriguing "Acorn/Tongue." Creaks, groans and rattles gradually cohere into forward motion, building a head of steam which never quite blows its top. Such sensitive interplay holds sway throughout, equally well evidenced on "The Salt Of Pleasure" where the saxophonist's breathy soprano intertwines with Majkowski's singing arco, accompanied by nervy unsettling percussion. As so often happens, the exception comes in the scene setting opener--"Jaw"--where a conversational exchange with Schubert's soprano pontificating over throbbing bass and rolling drums, crescendos in a fever pitch of foghorn bellows and emphatic percussion. It shows that whatever the weather, there is a lot more to come from the Fabric Trio yet." (John Sharpe)
Doors: 8.30 pm
Concert start 9.00 pm