RED Trio
Submitted by
Mathias
on Thu, 2011-03-31 21:59.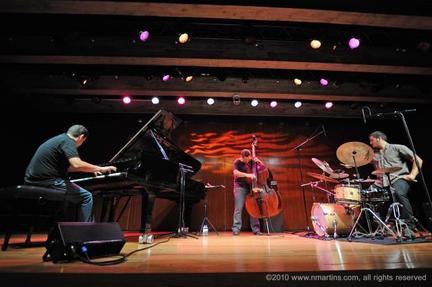 RED trio is a group that presents a multiplicity of approaches to music playing and composition in real time by improvisation. Formed by three musicians from the new improvised music Lisbon scene from an idea by Hernâniu Faustino, RED trio features Rodrigo Pinheiro at the piano, Hernani Faustino at the doublebass and Gabriel Ferrandini at the drums. RED Trio explores one of the most prolific jazz formations: piano/doublebass/drums. The trio's music is characterized for being fast, energic, highly focused, dynamic and sometimes nervous and violent. Most of RED trio influences are based on jazz and especially on improvised music. A three part counterpoint oscillating between the most subtle sound to a sonic burst full of violence and intensity.
RED trio received two awards from All About Jazz NY: their first record is listed on the Debut Albums of the Year, and their concert with Nate Wooley in May 2009 at Cornelia Street Cafe in New York is listed on the Concerts of the Year. Jazz.pt, the only portuguese Jazz magazine awarded RED trio as the Best Portuguese Group and listed them on the Best Portuguese Album list and Best Concert list.
Rodrigo Pinheiro
Born in 1973 at Covilhã, a small town at the center of Portugal. Started learning music at the age of five. At the age of eighteen moved to Lisboa and at the same time I began to get increasingly involved with the free improvisation scene at Portugal. Since then he had the opportunity to work with musicians like Américo Rodrigues, José Oliveira, Nuno Rebelo, Rodrigo Amado, Luis Desirat, Bruno Parrinha, Ernesto Rodrigues, Hiroshi Kobayashi, Cristin Wilboltz, Patrick Brennan, Nathan Fuhr and lots of other musicians from Portugal and abroad. Worked and studied with musicians like Carlos Zíngaro, Peter Kowald, Gunther Muller, and more recently with John Zorn who directed the "Cobra Portuguese Ensemble" where he played the piano.
Hernâni Faustino
A self-taught musician. Start playing electric bass in 1979 in several rock bands. With K4 Quadrado Azul (wins the national contest from Instituto Português da Juventude/New Culture Values in 1988). Work with theatre company, creating live music for the play "El - Levando-os aos Ombros em Passo de Marcha Sincopada ao Quarto Tempo" (Honor Mention from the award Maria Helena Perdigão, ACARTE, Fundação Calouste Gulbenkian, 1992). Since 1990 became concentrated in double bass, and began working in groups that improvised with free jazz framework. As improviser, he work in numerous meetings and collaborations:Carlos Zíngaro, Rafael Toral, Rodrigo Amado, Nuno Rebelo, Ernesto Rodrigues, Vitor Rua, Anisotropus, Nobuyasu Furuya, Jon Irabagon, Neil Davidson, Heddy Boubaker, Katsura Yamauchi, Mats Gustafsson, Chris Corsano, Nobuyasu Furuya, Nikolaus Gerszewski, Robert Mazurek, Blaise Siwula, Virginia Genta, Daniel Carter, Federico Ughi, Floros Floridis, Matt Bauder, Dennis González, Aaron González and many others.
Gabriel Ferrandini
He really is the image of the universal music he plays. Born in Monterey, California, Gabriel Ferrandini (23 years old) is the son of a Portuguese father born in Mozambique but relocated to Brasil with only 2 years of age, and of a Brasilian mother with Italian ascendecy migrated to the United States in her teenage years. This "citizen of the world" lives in Portugal since he was 9 years old, and it was in this European country where, ironically, he discovered jazz and the practice of improvisation. This fact is explained by the richness of the jazz and improvised Portuguese music scene, with already big repercussions in the world - as we verify knowing that a Portuguese discographic company, Clean Feed, was chosen by the online journal All About Jazz as Label of the Year in 2008. This is the context where the young musician is firming is name as one of the most important drummers around. With Rodrigo Amado's Motion Trio, Red Trio, Nobuyasu Furuya Trio, and the electro-acoustic / noise band Flu, or playing in ad-hoc formations with Rob Mazurek, Alberto Pinton, Alfred "23" Harth, Raymond Strid, and David Stackenas, among others, is presence is strongly felt. Ferrandini has a very personal view of the work with a pair of sticks, somewhere between Paul Lytton and Paal Nilssen-Love, and that makes all the difference. As the magazine jazz.pt wrote, "the future waits for him".