FIRST SNOW - Marja Ahti & Guests | Day 2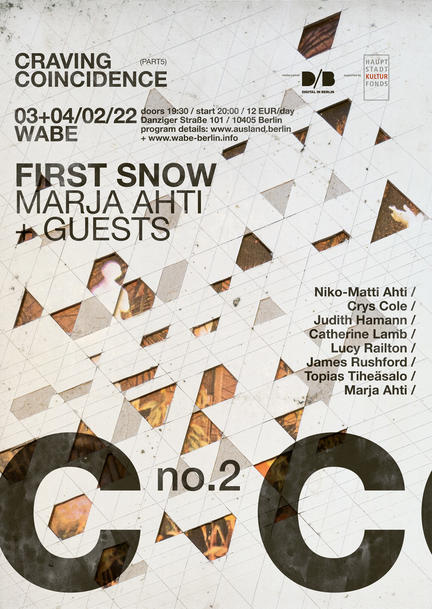 ausland & Marja Ahti present a night of concerts featuring:
Catherine Lamb (viola) & Lucy Railton (cello):
The Additive Arrow | 2021, by Catherine Lamb
- experimental version in progress w/ Lucy Railton -
www.sacredrealism.org | soundcloud.com/catherine-lamb
www.lucyrailton.com | lucyrailton.bandcamp.com

crys cole:
a piece of work
(crys cole – contact microphones, objects, electronics)
www.cryscole.com | soundcloud.com/crys-cole
WABE - Danziger Str. 101 - 10405 Berlin
www.wabe-berlin.info
Doors 19:30, concerts 20:00 | @facebook
pre-sale tickets: https://bit.ly/3GCEjzf
12 EUR at the door (Abendkasse)
2G+ applies
(+ = tested or boostered)

For the series "CC No. 2 - Craving Coincidence", ausland invited six musicians to curate a 2-day mini festival each. Crossing the lines between the seemingly artificial and what we're used to call the organic, between residuals of worldly sound and cool drafts of thought and contemplation in her own music, Swedish-Finnish composer and sound artist Marja Ahti put together the programme for this very 5th edition. Everybody's invited over for two nights of improvised and composed music, sound art and genre-bending electronic endeavours.
* * *
Mit freundlicher Unterstützung des Hauptstadtkulturfonds
Medienpartner: Digital in Berlin