CANCELLED_Gangl&Rdeča Raketa / Railroad Concrète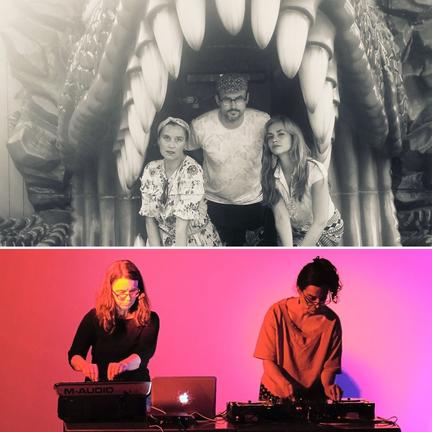 +++ English below +++
Natascha Gangl & Rdeča Raketa: Die Revanche der Schlangenfrau. Ein Klangcomic frei nach Unica Zürn
Natascha Gangl – Stimme
Maja Osojnik – Stimme, Elektronik
Matija Schellander – Stimme, modulare Synthesizer, Laptop
2020 jährt sich der 50. Todestag von Unica Zürn, einer Ikone des Surrealismus. Die Künstler*innen kreeieren ein Klangkunstwerk, das Zürns einzigartigen künstlerischen Kosmos in einer fiktiven Superheldinnen-Biographie erfahrbar macht. Worte werden zu Buchstaben, Buchstaben zu Rhythmus, Märchenhaftes wird essayistisch in Klangwelten zwischen Madrigal und Techno – eine Trip ins Herz des Surrealismus.
Die Autorin Natascha Gangl und das Elektroakustik Duo Rdeča Raketa aka Maja Osojnik und Matija Schellander entwickeln und performen akustische Kunstwerke, für die sie das Genre "Klangcomic" erfunden haben: Es sind vielschichtige Hörerlebnisse in denen Sprache zu Klang wird und Klang zu Sprache.
Railroad Concrète
Heidrun Schramm – Computer, MIDI-Controller, Kassetten-Player
JD Zazie – CD-Players, Mix
Das Duo Railroad Concrète wurde 2017 von Heidrun Schramm und JD Zazie gegründet und basiert auf aktuellen Zuggeräuschen aus dem Archiv ihrer persönlichen field recordings. Fasziniert von diesen Klängen, die ihren Alltag begleiten, spielt das Duo mit Zuggeräuschen, inneren Resonanzen, akustischen Wahrzeichen, Signalen, sozialen Klängen und den akustischen Qualitäten des Bahnhofs. Railroad Concrète entwickelt das gesammelte Klangmaterial in seinen Kompositionen und Klanginstallationen, in denen die Klangquellen vom Konkreten bis zum Abstrakten in perfekter Symbiose reichen, ständig weiter.
Das Projekt wurde in Belgien und in Deutschland präsentiert und war Teil des Q-O2-Kunstresidenzprogramms 2018.
Gefördert von der Senatsverwaltung für Kultur und Europa

Die Revanche der Schlangenfrau in Kooperation mit dem Berliner Hörspielfestival
Medienpartner: Digital in Berlin
Tür öffnet: 20:30 Uhr
Konzertbeginn: 21:00 Uhr
+++ English +++
Natascha Gangl & Rdeča Raketa: Die Revanche der Schlangenfrau. Ein Klangcomic frei nach Unica Zürn
Natascha Gangl – voice
Maja Osojnik – voice, electronic devices
Matija Schellander – voice, modular synthesizer, laptop
2020 marks the 50th anniversary of the death of Unica Zürn, an icon of surrealism. The artists create a sound artwork that makes Zürn's unique artistic cosmos tangible in a fictional superheroine biography. Words become letters, letters become rhythm, fairy-tale-like things become essayistic in sound worlds between madrigal and techno – a trip into the heart of surrealism.
The author Natascha Gangl and the electroacoustic duo Rdeča Raketa aka Maja Osojnik and Matija Schellander develop and perform acoustic works of art for which they invented the genre "sound comic": They are complex listening experiences in which language becomes sound and sound becomes language.
Railroad Concrète
Heidrun Schramm – computer, MIDI controller, cassette player
JD Zazie – CD players, mix
Railroad Concrète started by Heidrun Schramm and JD Zazie in 2017, based on actual train sounds taken from their personal field recording's archive.
Fascinated by these sounds that accompany their daily life, the duo plays with train noises, inner resonances, sonic landmarks, signals, social sounds and train station's acoustic qualities. Railroad Concrète constantly develops the collected sound material in its compositions and sound installations, where the sound sources range from the concrete to the abstract, in perfect symbiosis.
The project has been presented in Belgium and in Germany and has been part Q-O2 art-residency program in 2018.
https://soundcloud.com/hsjdz/live-at-ambient-lay-downwav
Supported by the Senatsverwaltung für Kultur und Europa

Die Revanche der Schlangenfrau in cooperation with the Berliner Hörspielfestival
Presented by Digital in Berlin
Door opens: 20.30 pm
First concert starts: 21.00 pm