Gramophone topologies by Pedro Lopes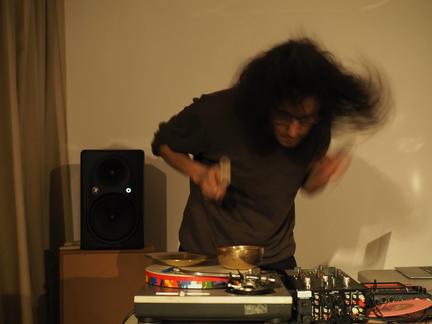 In the frame of his residency at ausland Pedro Lopes will present two improvisations, one with turntables and the second concert with gramophones, a fully acoustic event.
On December 16th, Pedro will demonstrate his musical idea of turntable percussion, which he has been developing for the last years.
A turntablism solo that lives in between the realm of freely improvised music, percussion sounds and DIY instruments – an acoustic/analog exploration of sounds that often sounds electronic, a way to re-think the role of the turntable as an instrument vs. music player device.
On December 20th, Pedro will present the direct result of his residency at ausland. Featuring his experiments with a new format: gramophones as musical instruments. A strange acoustic instrument, predecessor to the modern turntable, one of the first playback devices and that does not use electricity. The audience will also have a chance to experience some of the methods and play the gramophones used during the residency.
Doors at 20:00 / Start at 20:30