Hals über Kopf // Wong / Nosova / Borisov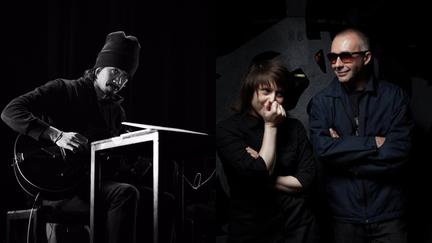 first:
lecture and open talk by and with Eric Wong (Hong Kong) and Olga Nosova (Moscow) about their observations to the (underground & experimental) music scenes of their home towns, how the music reflect the musicians' identities, and how their societies, histories, and systems influence the music. Plus special guest Alexei Boriosov!
(see details below)
second:
Trio concert:
Alexei Borisov (guitar/voice)
Olga Nosova (drums/voice/electronics)
Eric Wong (guitar/electronics)
Doors 20:00, Start 21:00 | @facebook
Hong Kong and Moscow don't seem to be related in any sense, let alone their respective music scene. One a highly commercialized city where the culture is based on montage of things, another located in the center of an oppressive regime, how do their own cultures affect on their music?
What are the "non-mainstream" music from these cities struggling with? Are they going against the system? Or are they going against the pop culture, which is also a part of the system? As musicians from cities where music scenes are not as vibrant as in Berlin, what is the difference playing in their home towns and playing in Berlin?
In this seminar, Eric Wong from Hong Kong and Olga Nosova from Moscow will talk about their observations to the music scenes of their home town, how the music reflect the musicians' identities, and how their societies, histories, and systems influence the music.
About the Speakers:
Eric Wong - Born 1981 in Minneapolis, MN, grew up in Hong Kong, a guitarist and computer musician. Although he has taken some lessons in younger age, he is pretty much an autodidact. After spending years going between rock and electronic music, his current focus are free improvisation and sound manipulation. Currently based in Berlin, and having been performed in Germany, Austria, Hong Kong, Macau, USA, China, Poland, etc. Besides solo works, other projects he is also involved include rock duo Meta Fog with Sascia Pellegrini patchworking pop culture montage, musical collective Stoic Strangers with Wilson Tsang plus other Hong Kong based musicians, and improvisational guitar/piano duo Se Noh Te with Eunice Martins.
http://ericszehonwong.tumblr.com/
Olga Nosova was born 1986 in Moscow, Russia. She started her music activity in 2001, having been played drums with different local underground bands of prog-rock, punk jazz, free improv, industrial scene: Syncopated Silence, Motherfathers, Brom, Yad, Sobaki Tabaka, Vladimir Epifantsev' group, Notchnoi Prospekt and more. From 2009 she is a member of Astma duo (improvised project with Alexey Borisov). In 2011 she moved to Germany. Now she lives in Berlin. She continues collaborate with Russian and international music projects, sound-artists, dance companies, touring intensively and performing at different festivals and special events. She sings, plays drums, electronics, as well as a wide range of acoustic instruments and sound objects.
https://soundcloud.com/olganosova
https://www.youtube.com/user/kobonan
Special guest of the event will be Alexei Borisov, the veteran of Moscow underground scene. His music activity has started in 1977. He is one of the pioneers of Russian new wave, electronic, industrial scenes, the participant of numerous international projects, collaborations and festivals, as wall as a music journalist, dj and event organizer.