Hanno Leichtmann /// Misancholy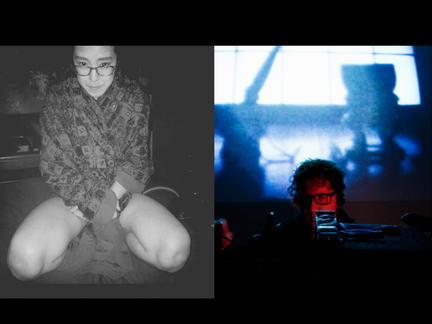 2 live concerts:
Hanno Leichtmann: "Unfinished Portrait Of Roedelius Today"
live-version of Leichtmanns sound installation of the same title that was part of the programme Lifelines#4: Roedelius at HKW in Sept 2015
hannoleichtmann.com
soundcloud.com/hannoleichtmannsoundart
soundcloud.com/hannoleichtmann
Misancholy
soundcloud.com/misancholy
Doors 21:00, Concerts 22:00.
@facebook
Misancholy is a Berlin-based Asiatic-electro musician. She incorporates dark synth, indie, and alternative with MPC, sampler, and keyboards. In 2006. she performed with a heavy rock and metal band as a guitarist. After the band dissolved, she focused on making music. She has been active as a performance artist since the beginning of this year.
Hanno Leichtmann is a producer of electronic music, soundartist and curator of electronic music series and conceptual festivals like "letra / tone" ,"grand jeté" or "my favourite thing".
Hanno Leichtmann has recorded 5 albums, the latest are entitled "unfinished portrait of youth today" and "minimal studies". Leichtmann's modern version of minimal music with strong connections to dub, ambient and club music. "unfinished portrait of youth today" is the current release (july 2015) , "minimal studies" was released in February 2013 on mikroton rec., Moscow.
He released the "lost" soundtrack for Christoph Schlingensief's last movie "African Twintowers", featuring Sir Henry and an Indian music ensemble.
Under the moniker STATIC Hanno Leichtmann has released 4 albums and several 7″ and 12″ of electronica / pop between 2001 and 2011, on labels such as CityCentreOffices, Earsugar, Karaoke Kalk and Audio-nl.
---
Unfinished Portrait Of Roedelius Today
Die Klanginstallation "Unfinished Portrait of Roedelius Today" von Hanno Leichtmann nutzt Loops als Mittel der historischen und künstlerischen Referenz. Als Hommage an den Elektronik-Pionier Roedelius hat der Berliner Komponist Hanno Leichtmann Fragmente aus dessen riesigem Werk in zum Teil mikroskopisch kleine Loops zerlegt, die, auf vier Kanäle verteilt, aus den vier Ecken des Raums zu hören sind.
Anknüpfend an seine Kompositionsmethode der LP "Unfinished Portrait of Youth of Today" lenkt Leichtmann die Aufmerksamkeit des Publikums auf die kleinsten Bauteile von Roedelius´ Werk, die er durch die Verortung im Raum in einen Dialog miteinander bringt.
Leichtmann konzentriert sich dabei auf Roedelius´ Werke aus den 70er und 80er Jahren und lässt Klangfragmente miteinander kollidieren, die die enorme Spannbreite von Roedelius´ Musik klar machen:
Rhythmusfragmente treffen, mit Hilfe von Loops zum Stottern gebracht, auf lyrische Klavierfiguren, Aufnahmen von Naturklängen treffen auf elektronischen Lärm, geloopte Klangflächen treffen auf Sprachfetzen.
Steht man in der Mitte des Raums, befindet man sich in einer 4-Kanal-Surround-Situation.
Sobald man sich jedoch im Raum bewegt und sich den einzelnen Lautsprechern nähert, kann man sich die einzelnen Loopschichtungen der 80minütigen Klangcollage wie mit einer Lupe näher heranziehen und hörbar machen.