Hiccup + Viola Yip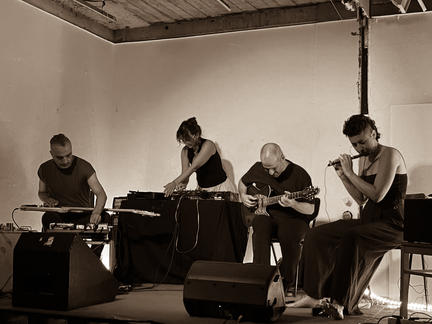 Doors 20.30 Uhr | Concerts 21 Uhr | Tickets (AK | Box Office) € 10,--
Hiccup
Marina Cyrino – Amplified Flute(s)
Tony Elieh – Bass, Electronics
Matthias Koole – Guitar, Electronics
JD Zazie – Turntables, CDjs
soundcloud.com/hiccupontheway
Viola Yip – electronic DIY instruments
violayip.com
+++ scroll down for english +++
Hiccup wurde 2020 in Berlin gegründet, vereint vier starke Persönlichkeiten der hießigen Experimentalmusikszene mit unterschiedlichem musikalischem Hintergründen und steckt voll unerwarteter Wendungen.
Hiccup sind Marina Cyrino an verstärkten Flöten und Objekten, Tony Elieh an Bass und Elektronik, JD Zazie an diversen Abspielgeräten und Field Recordings sowie Matthias Koole an No-Input Mixer und Gitarre. Alle vier haben während ihrer musikalischen Werdegänge einen sehr persönlichen Zugang zu ihren jeweiligen Instrumenten entwickelt. Hiccup kombiniert diese Erfahrungen und setzt sie zueinander in Beziehung, um das Publikum durch imaginäre Welten aus instrumentalen Landschaften, elektrischen Wäldern, statischen Bildern und gestischen Szenen zu führen.Beim rennomierten Beiruter Label Al Maslakh Records wird zum Jahresende das erste Album erscheinen.
Viola Yip ist experimentelle Komponistin, Performerin, Improvisatorin, Klangkünstlerin und Instrumentenbauerin aus Hongkong. Ihr Hauptinteresse besteht in Entwicklung und Bau neuer Instrumente und Klangkörper am Schnittpunkt von Komposition, Performance, Improvisation und Klangkunst und der Erforschung von unterschiedlichen Beziehungen zwischen Medien, Materialität, Raum und musikalischer Körper in der experimentellen Musik.
Viola Yip präsentierte ihre Instrumente und Performances bereits bei unzähligen großen, namhaften Musikfestivals und Konzertreihen rund um den Globus.
Das Konzert ist Teil des Monats der zeitgenössischen Musik Berlin.
+++ english +++
Started in Berlin in 2020, Hiccup brings together four strong personalities from different musical backgrounds and plenty of unexpected twists.
In their musical research, they have developed a highly personalised approach with their
instruments, ranging from Marina Cyrino's amplified flute and objects, Tony Elieh's bass and
electronics, JD Zazie's playback devices and field recordings and Matthias Koole's no-input
mixer and guitar. Hiccup combines these experiences and relates them to one another, taking the audience through imaginary worlds of instrumental landscapes, electric forests, static images and gestural scenes.Their first album will be released on Beirut's renowned label Al Maslakh Records by end of the year.
Viola Yip is an experimental composer, performer, improviser, sound artist and instrument builder from Hong Kong. She has been interested in creating new self-built instruments and sound works in the intersection of composition, performance, improvisation and sound art, exploring various relationships between media, materiality, space and our musical bodies in experimental music.
Viola Yip's instruments and performances has been presented in major music festivals and concert series arround the globe.
The concert takes place as part of the Month of Contemporary Music Berlin (Monat der zeitgenössischen Musik).