ige*timer
Submitted by
Mathias
on Fri, 2010-03-19 19:18.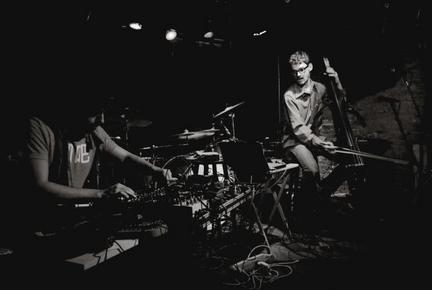 simon berz and klaus janek: doublebass meets hacked toys and lo-fi electronics
The music of ige*timer is an interplay between acoustic, electroacoustic and electronic sound creation and manipulation: Klaus Janek's doublebass playing generates acoustic analog sounds, Simon Berz' manipulated instruments produce and amplify electroacoustic sounds and the sound of the doublebass is manipulated electronically.
ige*timer combine a sensibility for atmospheric textures with elements of noise and rhythmical structures to create a dense, almost cinematic experience. Their different approaches and instrumentation can create intense frictions, yet they display a deep musical connection based on common experiences, both artistic and personal.
Studies of 20th century music, arts, social development and politics inspire the 2 musicians to create a boundless conception of music and society.
Klaus Janek studied classical doublebass with a particular interest in the 20th century, in parallel he explored traditional jazz to spiritual and energy based free jazz, he got involved in electronic music and works on stretching his expression and perception of music towards sound and noise. He acts at the junction of the different forms of phrasing and conceiving music.
Simon Berz started out playing drums in rock, punk and jazz formations. In recent years, his focus shifted towards improvised electronic music and noise, as he developped his own set up of instruments, using the DIY methods of hardware hacking and circuit bending, making use of errors, working with feedbacks and distortions. His approach can be playful and ironic, but the center of his attention is always sound and ultimately playing music.