Irena Z. Tomažin
Submitted by
Mathias
on Thu, 2019-02-28 23:21.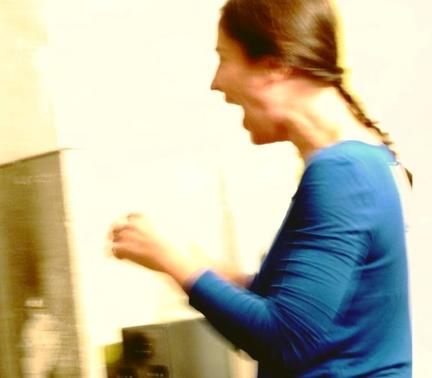 Irena Z. Tomažin is a Slovenian performer, choreographer and a voice teacher. The (heart)core of her work is the voice in its various existence. Starting out her dance education from the urge to move and release inner tensions and inspirations, her performance practice has since then shifted towards the investigation around the embodied voice. Her voice work is always physical, connected with body, gesture/dance and space, but at the same time is very oriented towards the sound textures of the voice. Her practice manifests in the form of thoughts, songs, spoken word events and experimental concerts, as well as through directing dance and theatre work. Sometimes it rises from the encounter and collaboration with other artists, other times from being alone, making space for listening to what is outside and inside.
In the last 20 years, next to collaborating with other artists and performing in different dance and theatre productions, Irena has created a series of voice and movement solos, duets and group pieces.
As an experimental voice artist Irena is involved in the European scene of improvised music and has ongoing collaborations with some of the world's most renowned sound improvisers.
As a teacher, Irena shares her work regularly teaching workshops in Europe, having taught in many international festivals and venues in France, Germany, England, Switzerland, Sweden, Belgium, Serbia, Croatia, Macedonia, Italy, Hungary, Poland, Austria, Japan, Lebanon, Iran, Greece, Bosnia, Slovakia, and US.