Jean-Luc Guionnet
Submitted by
caribu
on Tue, 2009-04-28 14:54.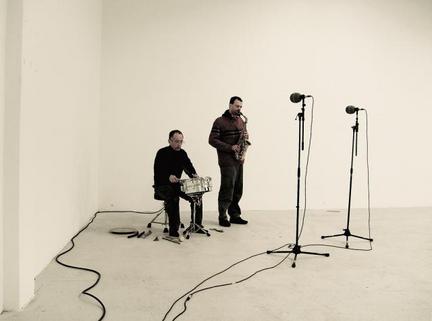 (from http://www.kunstradio.at/BIOS/guionnetbio.html)
- born in 1966 (Lyon, France)
- scientific studies
- has been a teacher of fine art
- diploma of tape-music in the conservatory of Boulogne
- thesis of philosophy about rumour in Sorbonne.
- one of the director of the aesthetic magazine "Terres des signes" (edited by Harmattan) from 1993 to 1996
- is working since 1986 on different music projects with Eric Cordier (Nadir, Schams, Phéromone, [IL]2, Synapses and a duet of church-organ/hurdy-gurdy)
- is a saxophone player in several groups of improvised contemporary music and jazz
In his own words:
My musical work subdivides itself into as many ways as occasions arise for me to think and act with sound. Those occasions have always to do with a strong meeting with an outside element: an instrument (saxophone/organ), a theoretical idea (what is "rumour"?), and mainly a collaborating friend (André Almuro, Éric Cordier, Éric La Casa, Pascal Battus, Franck Gourdien, Taku Unami …Seijiro Murayama) ...
There then follows a collection of themes which, in turn, influence the evolution of the musical work and define the direction of meetings to come: the thickness of the air, the pidgin (language with neither grammar nor vocabulary), the musical instrument considered as affective automaton, listening dark unto itself, the algebra of and in hearing, sound as a signature of space, signature of objects, signature of what it is not... the fact that French uses the same word – le temps – for time and weather, propagation and spread of forms in time etc. Music is, then, a way to test reality.
Conversely, it's a test whose experience defines a new distribution of the whole body by artificially localizing it in an unknown and purely physical environment, all the while being able to think, count, make relations or understand places, and so forth. The emotion I look for in music is made out of all these strata and the (more or less easy) sliding of one over the other during the act of listening.