Jessica Ekomane
Submitted by
Melodie
on Tue, 2016-01-19 01:10.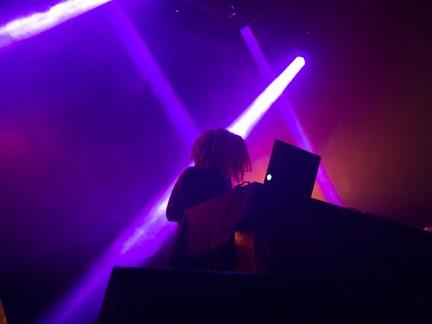 Jessica Ekomane's practice unfolds around music and sound installations. Her compositions seek a physical and cathartic effect alternating between noise and melody, and playing with our perception of rhythmic structures. Her latest project consists of a quadraphonic performance exploring the way our perception of rhythms is affected by the surrounding space, thereby introducing elements of psychoacoustics and gestalt theory. She is one of the Berlin Community Radio [INCUBATOR] residents for their 2017 edition, as well as one of the two chosen participants of this year's Open Port Club residency in Sapporo, Japan.
She has been awarded an Honorary Mention at Ars Electronica 2013 in the category Digital Musics and Sound Art for "Light / Movement", as part of the project Pulse Lab II: Works for Wave Field Synthesis (initiated by Robert Henke [DE]). She also has been selected for the Phonurgia Award 2012 with "Schaperstrasse 24" (in collaboration with Silje Nes [NO]) and is a DAAD scholarship holder.
Selected exhibitions:
2015
Shedsound, Shedhalle, Tübingen, DE
FILTER I - Attention Induced Euphoria, Argh! Kunstraum, Berlin, DE
UDK Sound Studies Masteraustellung 2015, Kühlhaus, Berlin, DE
2014
Hit List, Institute of Contemporary Art Newton, Sydney, Australia
2013
Blank Blank presents, Ehemaliges Stummfilmkino Delphi, Berlin, DE
On Foreign Grounds, Electronic Music Week, Shangai, China
Pulse Lab II: Works for Wave Field Synthesis, CTM 13, Berlin, DE
Hors-scènes / Seitenwege, Deutsche Oper, Berlin, DE
Der Gang der Dinge, UdK Bundesallee, Berlin, DE
MPLFNG HST, Einsteinufer, Berlin, DE
2012
Lebensräume, Ars Electronica, Linz, Austria
Prix Phonurgia Nova, la Gaité lyrique, Paris, FR
Höre deine Stadt, Haus der Berliner Festspiele, Berlin, DE
releases
2014
"To Whoever Shall Inherit the Earth" on Synthesis Vol. 1, Urban Arts Berlin
Overture, magnetic tape edition limited to 3 exemplar, Work it out out records