Leila Adu + Mills Projects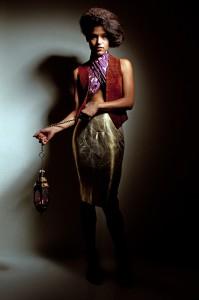 Leila Adu: "Ode to the Unknown Factory Worker" - Record Release
Leila Adu - piano, keyboard, vocals
Daniele de Santis - drums, perc
"Avante-garde pop that recalls Nina Simone and Tim Buckley." -Time Out London
"Leila Adu is a rebel-inspirer. Not in the way that calls for raising of fists or the hurling of sharp word-blades. Her defiance is decided. Anger isn't its mother. Wonder may be." - PurpleMag, NY
"Leila Adu's music is cryptic, edgy, oscillating between serious commentary and flippant experimentation." - Sheffield Telegraph
"Ode to the Unknown Factory Worker" is a raw musical travelogue of uncertainty and triumph in the exciting nomadic life of brilliant singercomposer-instrumentalist, Leila Adu. After 2009-2010 international solo and band performances in support of her Steve Albini produced "Dark Joan" LP, the London born New Zealand/Ghanaian artist received a spontaneous
opportunity for a return to the recording studio. The resulting 11 song album, "Ode to the Unknown Factory Worker," was tracked in Rome for Rai Trade/Tracce, the Italian National Radio label. It primarily features Leila's dark yet witty songs in naked arrangements for solo voice and piano/electric keyboards. Accompanied on 4 propulsive tracks by Italian drummer Daniele De Santis, the quirkily structured compositions speak the language of pre-war blues, world music, postrock electronica and Bing Crosby. Yes, Leila's most uniquely subversive talent lies in bringing a pop sensibility to irreverent songs such as the scifi environmentalist dirge "Martian Raft," the "My Fair Lady" inspired pro-feminist twister "Brazen Hussy" and the barbed anti-mall punk satire "Slick Department Store." Speaking on the themes of dislocation and immigration that permeate the new album, Leila says "I feel as if I am from nowhere and everywhere in some respects…having deep heart connections in Africa, England and New Zealand is the general existentialist crisis that forms the background of most of my work."
Leila Adu has mastered the art of forging smart outsider music with a warm accessible core. Voice is her weapon of choice. "Ode to the Unknown Factory Worker" is Leila's determined step in the journey towards a new global folklore merging primal traditions with an electronic future.
SUPPORT: UK Artist Mills Projects Solo Eclectic