Matsumoto Mitsuaki
Submitted by Anonymous on Tue, 2013-11-12 16:28.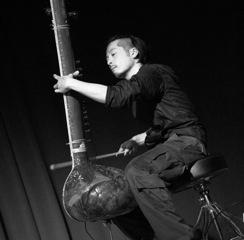 born in 1975
lives and works at Kagoshima...
"audio-visualist", visual artist, composer, sound performer, scenographer, Osumi-Kagoshima Art Festival co-organiser.
Under the name of Mathieu Martin, he had developed work which had no particular direction nor visible form, for the goal to give to the spectators a physiological feeling. By this point of view, he creates also scenography.
As a musician, he plays in different contexts: acoustic improvisation music (bandeon), prepared sitar (self-made instrument), electronic sound accompaniment for dance, etc...He also playes in collaboration with instrumentalists: Pierre Bastien, Jac Berrocal, Itaru Oki, Roland Pinsard, Vincent Laubeuf, Hugues Vincent, Cedric Piromalli, Pascal Le Gal, Patrice Grente, Yasumune Morishige, Ko Ishikawa, etc.
His solo work concerns about "no-scene". He tries to create "a sensory space", not only musical work. To realize this, he uses different means, from acoustic to electric, from analog to digital, from stereo to surround.
After 7 years in the improvised music scene in collaboration with various musicians, he moved to Kagoshima and co-organizes the Osumi-Kagoshima Art Festival since 2012.
He also organizes the "croisements" festival Tokyo edition (solo improvisation festival) for the reflection about the nature of music.