Maya M. Carroll
Submitted by
gretchen
on Wed, 2014-08-13 03:56.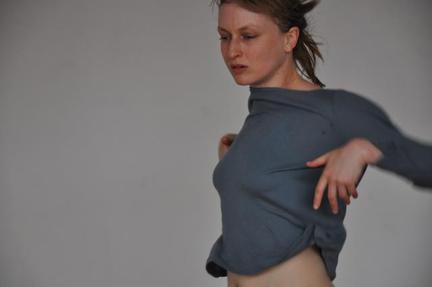 Maya M. Carroll is a choreographer, dancer, teacher, based in Berlin, making independent work since 2004. Her work ranges between set choreography and directed improvisation, and evolves from the tension/interplay between reality and fantasy while reflecting on radical human conditions and relationships. Movement, images, poetry and sound speak through the body and articulate narratives and emotional realms. Her physical work detects details, hunts for beauty and survival. Working in Germany and Europe she has been making dances and performing her work in state theaters, independent venues and alternative spaces. Her classes and workshops offer a research laboratory where she enthusiastically shares and exchanges methods of composition with her students. Background and collaborations: danced in Bat-Sheva Ensemble (2000-2003), worked with choreographers Lara Barsacq, Anat Daniell, Ohad Naharin, Sasha Waltz and Arkadi Zeides to name a few. Since 2012 she has been collaborating with director and choreographer Julyen Hamilton.
In 2011 Maya formed The Instrument - an artistic structure standing for her independent and collaborative work with her partner, composer Roy Carroll.
­­­