While House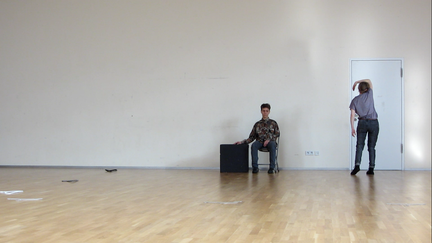 A collaboration of The Instrument and Maya Weinberg
a work in progress
Direction, choreography & dance: Maya Weinberg & Maya M. Carroll
Music: Roy Carroll
Light and visuals: Sarah Marguier
The Instrument is a research vehicle, standing for the work and creation of choreographer, dancer and teacher Maya M. Carroll née Lipsker). It is based on her independent as well as collaborative work with the composer / musician Roy Carroll.
Since 2006 Maya and Roy have been constantly developing their exchange, integrating several other artists and collaborators and have created over ten pieces together. Collectively and separately - Maya and Roy´s diverse activities encompass choreographic/composed work, immprovisation-based group performance, sound/scenographic installation and set/costume/visual art design.
Biographies:
Maya Weinberg is a choreographer, dancer and a teacher based in Berlin since 2013. She worked with Yasmeen GodderCompany for 8 years and since 2008 has produced her own work, often collaborating with dance, video-art and performance artists such as: Keren Ida Nathan, Iris Erez and Orless Hadari. Her work raises basic questions about the medium of performance while offering unexpected ways of dealing with the tragic-comic gap that exists betweens language and unexpressed intentions. Her last piece "If It´s Fun," a collaboration with the choreographer Lee Meir, premiered in January 2014 during the Tanztage Festival in Berlin in Sophiensaele.
Maya M. Carroll

is a Berlin based choreographer, dancer and teacher. Her independent work began in 2004 in Israel, and continues in Berlin and Europe since 2005. As a dancer she has worked with BatSheva Company, Lara Barsacq, Arkadi Zeides ,Sasha Waltz and Guests and Julyen Hamilton to name a few. Working as a choreographer and teacher all over Germany and Europe she has been making dances and performing her work in state theaters, independent venues and alternative spaces. Maya's work evolves from the tension and interplay between reality and fantasy while reflecting on radical human conditions and relationships. Sound, images, poetry and music speak through the body and articulate narratives and emotional realms. Her physical work detects details, hunts for beauty and survival. In 2011 Maya formed The Instrument – an artistic structure standing for her independent and collaborative work with composer Roy Carroll. www.theinstrument.org
Roy Carroll is a composer / musician born in Dublin, living in Berlin, making
performances, recordings and compositions. Operating at the interstice of electrical and acoustic sound, his work explores the physicality of music through provoking and investigating kinetic interactions between his materials; - denuded loudspeakers, resonant objects, textured materials, feedback loops, the moving body, acoustic spaces, - instability as a creative prerogative even. His compositional work is similarly focused, but with some consideration for repeatability.
Sarah Marguier
Working as a free-lance costume and visual artist since 2010, her works orients towards reused materials and the traces left by natural and artificial objects.
She has worked as a costume, set, light and visual designer with choreographers Maya M. Carroll, Tommy Noonan, Murielle Elizeon, Zufit Simon, Louise Wagner, to named a few.
Her designs involve poetry and decadence, evolving with freedom and sensitivity towards organic forms.
In 2013, She created What remains
, a research platform composed of a variety of artistic projects, exploring how creation can become a physical bond to materialize and witness the traces of life as time passes and experiences accumulate.
Her creation is determined by her devotion to capture and assimilate the Traces left by natural phenomenons as well as man-made objects as they are being used by people. Notably, her poetic realm is deeply influenced by organic forms, the way they morphed in reaction to their surroundings, or decay in time. Her designs are also characterized by the incorporation of reused materials in honour of the emotional charge they once embodied in a "past life".
http://www.sarahmarguier.com/