Sarah Marguier
Submitted by
gretchen
on Wed, 2014-03-26 20:14.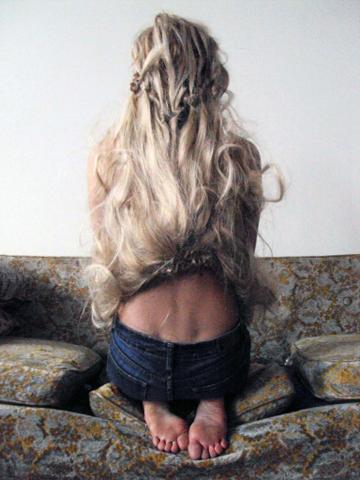 Sarah Marguier is a costume, set and visual artist born in France, now living and working in Berlin.
Her works orients towards reused materials and the traces left by natural and artificials objects.
She has worked as a costume, set, light and visual designer with choreographers such as: Maya M. Carroll, Tommy Noonan, Murielle Elizeon, Angelika Thiele, Zufit Simon and Louise Wagner to named a few.
Her works have been seen in pieces and perfomances in Berlin (Dock 11, Laborgras), Freiburg (Theater Freiburg), Leipzig (Lofft), Grenoble (Citedanse), St John Canada and has been exhibited in Chicago (the SAIC of Chicago, Sandbox loft), in Paris (Musée du Quai Branly in partnership with the ENSAD) and in Assisi, Italy (Arte Studio Ginestrelle).
In 2013, she created What Remains, a research platform composed of a variety of artistic projects, exploring how creation can become a physical bond to materialize and witness the traces of life as time passes and experiences accumulate. This project is conceived as an inclusive research through a collaborative and interdisciplinary approach to creation and is executed through the use of costume, approach to textile, light, visual art, etc.
Her creation is determined by her devotion to capture and assimilate the traces left by natural phenomenons as well as man-made objects as they are being used by people. Her designs involve poetry and decadence - evolving with freedom and sensitivity towards organic forms. Notably, her poetic realm is deeply influenced by organic forms, the way they morphed in reaction to their surroundings, or decay in time. Her designs are also characterized by the incorporation of reused materials in honor of the emotional charge they once embodied in a "past life".