Miako Klein
Submitted by
Mathias
on Fri, 2016-03-18 19:52.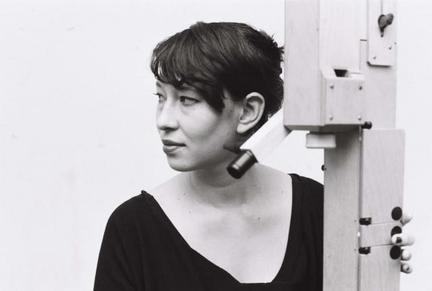 MIAKO KLEIN, Berlin-based musician, performer and improviser, has a greatly varied musical background. Classically educated on the recorder and violin, she has extensive experiences in performing contemporary music, as well as in Early and improvised music. Miako constantly questions and challenges the conventional ways of music performance by pushing boundaries between styles and genres, by experiment, and by interdisciplinary collaborations. She performs as a soloist and chamber musician and often collaborates with composers who have written works for her.
Her recent projects as a performer include the production of "The Past" with Constanza Macras | Dorky Park, the premiere of the opera "Thanks to My Eyes" by Oscar Bianchi / Joel Pommerat with Ensemble Modern and further performances throughout 2012 in Brussels, Paris, Lisbon and Strasbourg, the interdisciplinary project "Synecdochism" composed by Chikage Imai, which is based on the synthesis of Japanese Performance art with contemporary Western music, as well as being part of the creation as composer and performer of dance production "INFLUX" by Hybride Cie (Paris/ Avignon).
Miako has played with Ensemble Modern, ICE International Contemporary Ensemble, Quartet New Generation, and she regularly performs with trumpet player Sava Stoianov (member of Ensemble Modern), trumpeter Brad Henkel, her band Pain Perdu (with Mathis Mayr and Sebastian Flaig), trio KAZE and the Early music ensemble "apparatus musicus berlin". She was former member of the Renaissance Recorder Consort "The Royal Wind Music" and the "Espiga String Quartet". As an improviser she performed with Brad Henkel (Brooklyn), Audrey Chen (Berlin), Jasper Stadhouders (Amsterdam), Harald Austbø (Amsterdam) a.o.
Throughout 2010/11, she worked as musician at the Cirque du Soleil Show ZAiA in Macau. She won fellowships as Artist in Residency at Kunstmeile Krems in 2014 and Akademie Schloss Solitude 2014-15.
She has performed at the Ultraschall Festival Berlin, MATA-Festival NYC, Festival Musica Strasbourg, Early Music Festival Barcelona, Emergences Festival Avignon, Festival Aix-en-Provence, Boulevard Festival s'Hertogenbosch, DeSuite-Muziekweek Amsterdam and Klangwerktage Hamburg. Miako's live-recordings have been broadcast on German radio stations including HR/DLF, WDR3 and Concertzender.
At young age Miako won prizes in numerous competitions including first prize at the "International Recorder Competition of Engelskirchen" and the "SONBU" International Recorder Competition of Utrecht/NL. She was awarded first prize at Germany's National Youth Competition, "Bundeswettbewerb Jugend musiziert", on multiple occasions. Miako also won the "Prize of the City Erlangen for the Best Interpretation of Contemporary Music", the special award for outstanding ensemble performance by "Stadtsparkasse Köln", and the IRINO-Foundation Tokyo award for contemporary music.
The daughter of a classical pianist, Miako received her first musical lessons as a young child. At the Westfalian music school she was then taught the recorder by Gudula Rosa and the violin by Tor-Song Tan. Miako studied the recorder with Paul Leenhouts at the Amsterdam Conservatory, and graduated with distinction. She also studied violin as a second major with Lex Korff de Gidts. Miako received additional private recorder lessons from Winfried Michel and Walter van Hauwe, and violin lessons from Martin Dehning and Vesselin Paraschkevov. She undertook chamber music lessons at the Dutch String Quartet Academy and participated in masterclasses conducted by Eberhard Feltz (Berlin), Isabel Charisius (Alban Berg Quartett), Stefan Metz (Amsterdam) and the Auryn-Quartett.Miako is currently studying at the UdK Berlin as a Master soloist for Early music with Prof. Christoph Huntgeburth.