Sven-Åke Johansson: Carl / Phillips / Butzmann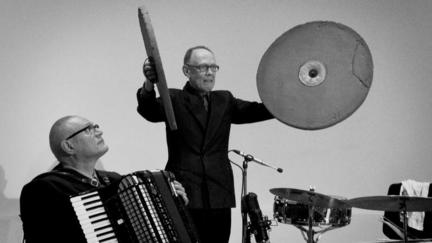 SVEN-ÅKE JOHANSSON 70fffive

Sven-Åke Johansson / Rüdiger Carl Duo
Sven-Åke Johansson – percussion
Rüdiger Carl – accordion
Sven-Åke Johansson / Simon James Phillips Duo: Songs from Elsewhere
Sven-Åke Johansson – vocals
Simon James Phillips – piano
Sven-Åke Johansson: Polis, Wachs und Pomade
with Frieder Butzmann (vocals); Johnny Chang, Miako Klein (violin); Shasta Ellenbogen (viola); Hui Chun Lin (cello); Liz Allbee, Sabine Ercklentz (trumpet), Hilary Jeffery (trombone)
English version below
biegungen im ausland feiern an zwei Abenden den 75. Geburtstag des Musikers und Performers Sven-Åke Johansson – eine der bedeutenden Persönlichkeiten sowohl des Free Jazz, der frei improvisierten Musik und der Echtzeitmusik-Szene.
(Erster Tag: 7. Dezember: https://ausland-berlin.de/sven-ake-johansson-blue-moment-jan-jelinek)
Geboren 1943 in Mariestad (Schweden), ist er einer der stilprägenden Schlagzeuger der deutschen Free Jazz-Ära der 60er und 70er Jahre und verfolgte ab den 80er Jahren einen weitestgehend von Institutionen und Gruppierungen unabhängigen künstlerischen Weg als Musik-Performer, zunehmend in den Kreisen Bildender Kunst und Neuer Musik. Unter anderem zählen über fünfzig Plattenveröffentlichungen, etliche Musiktheaterstücke, Hörspiele, bildnerische Werke und ein lebendiges Tourneeleben zu seinem Œuvre.
Eröffnet wird der Abend mit dem Duo von Sven-Åke Johansson mit dem Free Jazz- und Improvisationsmusiker Rüdiger Carl, die in diesem Jahr ihr 50. gemeinsames Bühnenjubiläum feiern! Sie verkörpern lebendige Free Jazz-Geschichte und blicken zurück auf zahlreiche Konzerte, Plattenveröffentlichungen und verschiedenste Kooperationen. Johansson gehörte von Beginn an zu der Wuppertaler Szene um Peter Brötzmann, Rüdiger Carl kam zwei Jahre später dazu. Beide haben sehr intensiv mit bildenden Künstlern wie Martin Kippenberger zusammengearbeitet und sich immer wieder der Wiederentdeckung des Volkslieds und des klassischen Jazz Songbooks gewidmet. Ihnen gemeinsam ist ihr ausgeprägter Sinn für ernsten Humor.
Ein ganz neues Projekt ist die Zusammenarbeit Johanssons mit dem australischen Pianisten Simon James Phillips, mit dem er die Songs from Elsewhere vorträgt. In dem Duo entfaltet sich Johanssons surrealistisch anmutende Text- und Vokalkunst in Reinform, von Phillips kongenial pianistisch untermalt und konterkariert.
Den Abschluss bildet das Kammerstück Polis, Wachs und Pomade für Streicher, Bläser und Stimme, das 2001 auf den Donaueschinger Musiktage uraufgeführt wurde. Die Wiederaufführung übernimmt ein neues Ensemble aus Musikerinnen und Musikern der Berliner Neue Musik- und Echtzeitmusik-Szene: Liz Allbee und Sabine Ercklentz (Trompeten), Hilary Jeffery (Posaune), Johnny Chang und Miako Klein (Violinen), Shasta Ellenbogen (Viola) und Hui-Chun Lin (Cello). Für den Vokalpart ist als special guest der Komponist und Performancekünstler Frieder Butzmann eingeladen – ebenfalls ein langjähriger Weggefährte Johanssons. Johansson schreibt über die Komposition: "Polis, Wachs und Pomade beinhaltet, wie man liest und hört, die gebräuchlichsten Vokale und Konsonanten der Sprache und da die Musik eine Sprache sein will, ist in der Komposition ein Wechselspiel zwischen Vokalen (tönend) und Konsonanten (tonlos) erkennbar, wobei ich dem Tonlosen einen größeren Platz (Raum) zugemessen habe als dem Tönenden!"
English version
biegungen im ausland celebrate on two evenings the 75th birthday of the musician and performer Sven-Åke Johansson – one of the important personalities of free jazz, free improvised music and the Berlin real-time music scene.
(First day: December 7: https://ausland-berlin.de/sven-ake-johansson-blue-moment-jan-jelinek)
Born in 1943 in Mariestad (Sweden), he is one of the style-defining drummers of the German free jazz era of the 60s and 70s and pursued from the 80s a largely independent of institutions and groupings artistic career as a music performer, increasingly in the circles of Visual Art and New Music. Among other things, more than fifty record releases, several music theater pieces, radio plays, visual works and a lively touring life are among his oeuvre.
The evening will open with the duo of Sven-Åke Johansson with the free jazz and improvisation musician Rüdiger Carl, who are together celebrating their 50th stage anniversary this year! They embody lively free jazz history and look back on numerous concerts, record releases and various collaborations. Johansson belonged from the beginning to the Wuppertal scene around Peter Brötzmann, Rüdiger Carl joined two years later. Both of them worked very intensively with visual artists like Martin Kippenberger and devoted themselves intensively to the rediscovery of the folksong and the classical jazz songbook. Their common sense is their serious sense of humor.
A completely new project is Johansson's collaboration with Australian pianist Simon James Phillips, with whom he presents the Songs from Elsewhere. Johansson's surrealistic text and vocal art unfolds in its purest form in the duo, conspicuously pianistically accompanied and counteracted by Phillips.
The finale is the chamber piece Polis, Wachs und Pomade for strings, winds and voice, which premiered in 2001 at the Donaueschinger Musiktage. The reissue will be performed by a new ensemble of musicians from Berlin's Neue Musik- und Echtzeitmusik scene: Liz Allbee and Sabine Ercklentz (trumpets), Hilary Jeffery (trombone), Johnny Chang and Miako Klein (violins), Shasta Ellenbogen (viola) and Hui-chun Lin (cello). For the vocal part the composer and performance artist Frieder Butzmann is invited as a special guest – also a longtime companion of Johansson. Johansson writes about the composition: "Polis, Wachs und Pomade contains, as one reads and hears, the most common vowels and consonants of the language and since the music wants to be a language, in the composition an interplay between vowels (sounding) and consonants (toneless), whereby I have assigned the toneless a larger space than the sounding!"
Supported by Senatsverwaltung für Kultur und Europa and Musikfonds / Die Bundesbeauftrage für Kultur und Medien
Presented by Digital in Berlin
Doors: 8.30 pm
Concert start: 9.00 pm
8 Euro